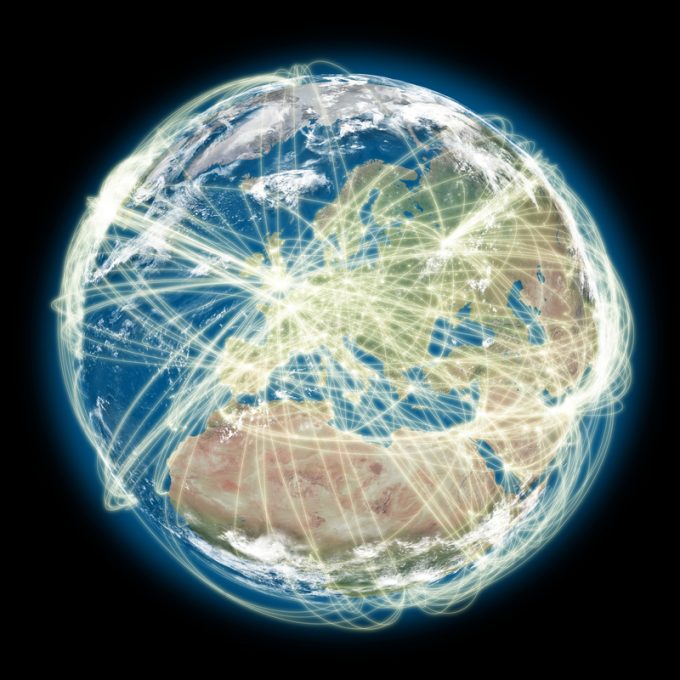 The air cargo industry is at something of a crossroads: the past couple of months has presented an opportunity review strategy – with some executives suggesting it is time put cargo at the forefront, rather than passengers, and offer customers an integrator-style model.
With a fast-growing e-commerce sector, and business models of the likes of UPS and FedEx proving freight can, and does, pay, it'll take a combination of changed mindsets and joined-up technology to put the fragmented air cargo industry in the driving seat.
The Loadstar spoke to Amar More, chief executive of Kale Logistics Solutions, which has implemented community systems in airports, including Mumbai and Atlanta.
So what are the first steps for the industry to take, if they want to fully compete and offer a fully integrated platform for customers?
"Before the whole concept works, you need an anchor, if you want to compete with the integrators," he explained.
"Once you have an anchor, multiple entities can connect on one platform and exchange shipment data and collate shipment status. That replicates the information the integrators have. It could be an airline, or airport that takes responsibility.
"On the tech side, you need technology which fully integrates – take FedEx; you go to one website and get everything, because it's one company. So you need to integrate a united view, which replicates all the parts, such as first-mile trucking and local airport information. You need different interfaces for shipments, but presented in a unified format; a single view of what is happening."
The trick, said Mr More, is to get the right 'anchor'.
"We are working on one system in which the shipper is the anchor. The truckers and forwarders are connecting through the shipper's system.
"But if every shipper has its own system, it will become difficult and sub-optimal. So who is the best to do it, and where will it be most optimal?
"We have found that the best anchors are ports and airports. For example, if you take Heathrow (LHR), there must be 150 airlines and 600 forwarders, but just one LHR. Airports are not competing with other stakeholders, which is extremely important for a data-sharing project. For example, if British Airways did it, Lufthansa wouldn't be comfortable. You need neutrality and stakeholder access."
A common interface is relatively easy to develop, he added.
"Digital infrastructure at an airport needs a common system, like IATA-standard EDI, and standard APIs. You need a portal to enter the data and then platforms can make the data downloadable. Then you can digitise the whole community."
Mr More explained that in Mumbai, where space constraints forced it to innovate, forwarders established an interface in just three days. The airport now has complete visibility at one end and it can be connected to a platform at the other end, completing the loop.
But that does require every destination to develop similar systems.
"The dream would be a global platform where everyone can connect. But you need to have a global anchor which could do it, and that anchor has to be powerful enough. It would need to be from the regulator side, but needs to be very strong, like a UN body or Customs. And it has to be an international entity in the multimodal space."
In the absence of a powerful, international body taking charge, it is much more likely that individual companies will step up instead, such as Atlanta. Mr More said the fully integrated system at that airport, which launched last November, would take about 18 months to complete. You start with a small group of stakeholders, he explained, and gradually build in more.
One problem, however, will always be who pays. The answer, says Mr More, is everyone.
"With Mumbai, the airport paid and then there were transaction charges. Anything where people are not asked to invest will be lapped up quickly. But if an investment of $1m is expected, it will take a long time.
"The lower the barriers to entry, the easier it will be. Those are the things that will succeed. You start with free trials of the platform, and then pay-per-transaction."
The key is making sure "onboarding" is easy, he added.
One of the challenges – which makes a more fragmented system very different from a one-stop shop like FedEx, is how different companies, whether they be IT companies installing systems, or other stakeholders, differentiate their product on an integrated platform.  But Mr More explained: "Your differentiation will be what you are offering the community, and how you solve community problems."
The past two months have exacerbated the need for companies to use technology better – and the current crisis is a good springboard from which to innovate.
Mr More pointed to Kale's new service, Ping, which helps companies create an e-air waybill (eAWB) without investing in new technology, by enabling pdfs of AWBs to be converted into standard messages. It cuts time, costs and viral spread.
"It was a very simple thing for the community. Usually, a forwarder or trucker goes to the handler, parks, goes to the counter and gives over the documents, which are then are checked. But that creates a queue and takes time, as well as increasing the probability of the virus spreading.
"Ping is a very simple facility; you just upload or email the documents, which go onto the platform. The data reaches the handlers but the trucker doesn't leave the truck. The time is reduced drastically, no paper is handled and each shipment is processed faster. And with lockdown, there are fewer staff, so this simple, offering has helped tremendously, and is not just available from Monday to Friday."
It's a perfect example of a simple, yet effective, solution, which provides better joined-up services for all stakeholders. A microcosm of what can be done throughout the industry.
But the greatest barrier to change, cautioned Mr More, is not lack of technology, or cash. It's mindset.
And if the last two months have taught us anything, it's that change is perhaps easier – and can be more significant – than we ever realised.