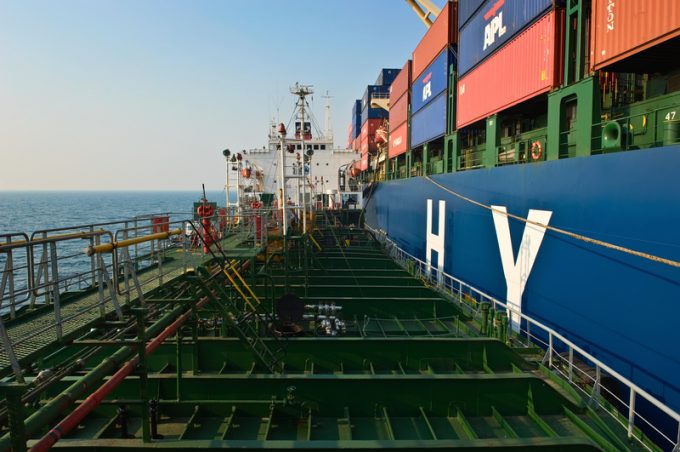 A survey of shipowners by Drewry reveals that two thirds are preparing to bunker their ships with more expensive low sulphur fuel oil (LSFO) when the IMO's 0.5% sulphur cap is introduced in January 2020.
66% of respondents told Drewry that LSFO was the intended solution for their vessels come 1 January 2020, whereas only 13% were intending to retro fit scrubbers [exhaust gas cleaning systems] to their ships and just 8% were considering LNG as an option.
The $5m-$10m cost of fitting scrubbers was the main reason given, but there were also concerns that further environmental legislation could completely outlaw their use, said Drewry.
Indeed, a recent report by Swedish financial services group SEB estimated that fewer than 2,000 ships would have scrubber systems installed by the 2020 deadline out of a total merchant fleet of some 60,000 vessels.
Notwithstanding the installation cost and the uncertainty over future legislation, shipowners were also concerned about the disposal of sludge and the loss of space on the ship.
Another factor is that shipowners believe that the higher fuel costs – at around $600 per tonne LSFO is some 60% more expensive than existing heavy fuel oil (HFO) – are the "charterers' problem" since fuel costs are usually for their account.
The looming new low-sulphur regulations certainly has the container liner industry worried, given that carriers charter in a high percentage of their fleet – for example, in the case of CMA CGM and MSC it is 62% and 66% respectively.
As the clock ticks away to the 0.5% sulphur cap regulations major carriers have still to decide on which direction to take regarding their owned ships and the vessels they have on long-term charter.
If they pay for the installation of scrubbers to be fitted on their own ships, as well as selected chartered-in tonnage, it has been calculated that the cost of the installation could be recovered in less than a year, given the lower cost of burning HFO.
So far carriers have generally opposed scrubber systems. Speaking at Maersk's Capital Markets Day in Copenhagen in February, Maersk Line chief operating officer, Soren Toft, said it was "not a sensible way of doing it".
"Our view of this at least for the moment is that we don't really prefer the scrubber solution," said Mr Toft.
He also confirmed that the carrier was "looking into LNG" as an option.
Elsewhere, Hapag-Lloyd's chief executive, Rolf Habben Jansen told investors last month that the carrier was "not leaning very much towards scrubbers" but conceded that its final strategy would probably be a combination of all options.
And with box lines potentially facing an extra $34bn per year for the extra cost of burning low sulphur fuel – according to an estimate by S&P Global Platts – fuel policy decisions reached in the next 18 months or so could be critical to the ability of carriers to survive and thrive.
Meanwhile, it seems that in terms of newbuilds, shipowners are more prepared to consider ordering scrubber-installed ships, with 21% of respondents to the Drewry survey opting for ships with the gas exhaust systems fitted, 24% considering LNG-ready ships, but still the highest percentage, 37%, preferring LSFO.
"Owners must brace themselves for additional opex and capex costs associated to the new legislation," Drewry said.