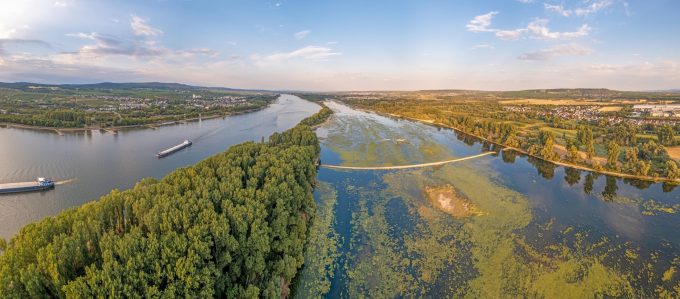 Low water levels resulting from a lengthy heatwave across Europe have forced the closure of the Rhine for the first time in four years.
Closure of the German waterway was announced late on Friday as water levels on the Kaub gauge hit 37cm – 41cm is necessary for operations, albeit at reduced loads, and many operators have been many running  barge services at 20% capacity.
And over the weekend, water levels dropped to 32cm.
Barge operator Contargo said: "For reasons of safety we shall largely discontinue our navigation on the Upper and Middle Rhine."
It told customers: "We regretfully have to point out we can no longer guarantee to meet all deadlines and, according to our general terms and conditions, we no longer have an obligation to transport."
When water levels dropped below 81cm on the Kaub and 181cm on the Duisburg-Ruhrort late last month, Contargo imposed low water surcharges, and when levels dropped below 50cm last week, Contargo increased these to €589 per 20ft box and €775 per 40ft – figures described by a source as "nuts". It was not alone in implementing low water surcharges, with the source paying €200 and €260, respectively.
Other sources said the river's closure "couldn't come at a worse time" for European supply chains, which are already contending with severe port congestion and the repercussions of the war in Ukraine.
Now, many are also wondering how they can retrieve containers already out on barges when the closure was announced and get them to the nearest terminals for unloading.
Contargo told customers: "We will position our barge fleet in such a way as to be able to safely unload your containers at one of our terminals. We will do our utmost to continue to transport your containers. So long as the levels on the Lower Rhine allow inland navigation, we can transport containers via land bridge between the terminals on the Upper and Middle Rhine and our terminals on the Lower Rhine."
This is not assured, however. One forwarder told The Loadstar they had been told water levels could fall below the 27cm record set in 2018, and hit 25cm by Wednesday.
Inland transport consultant Gunther Ginckels added: "This shows just how important inland navigation is to ensure the movements of goods across Europe, but it should not take these dramatic events for people to realise this."
Following the 2018 drought, which prevented the Rhine from being fully reopened for around six months, discussions began on deepening the river. Mr Ginckels said it needed support from government and industry, but, in part because of Covid and now the war in Ukraine, there had been no movement the project.
"It may be that following this closure, the deepening project is back on the agenda, but I do not know the full extent of any plans," he said. "I can tell you that simply deepening it along the Kaub gauge will not be sufficient."