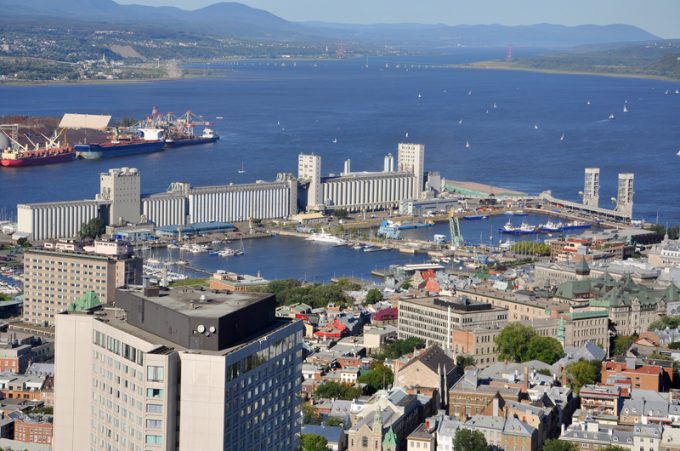 The port of Quebec is eyeing a role as a container gateway for cargo to Canada and the US Midwest.
It has underscored these ambitions with a joint venture agreement with Hutchison Ports and CN Rail, Canada's largest rail operator. 
The C$775m (US$585.5m) project aims to establish a container terminal at Quebec with an annual capacity of 500,000 teu.
On a 43-acre site, it will be able to handle vessels of more than 8,000 teu, taking advantage of 52ft of depth, which will make it the only container facility on the St Lawrence river capable of accommodating ships of this size. 
The port, Hutchison Ports and CN are hoping for federal and provincial government agencies to chip in to help cover the cost of the terminal, but so far neither government has announced plans to contribute. One observer reckons the provincial government may come on board. 
Under the joint venture agreement, Hutchison Ports will build and operate the facility and the partners hope the terminal operator's reach – a network spanning 52 ports in 27 countries – can be leveraged to entice shipping lines to make the journey to Quebec.
The chief focus will be on trade with Asia, according to Hong Kong-based Hutchison Ports. 
"Quebec City will become Hutchison Ports' gateway to the east coast of North America," said MD Eric Ip. "As a fully intermodal deepwater port, its strategic location to reach the Midwest market and the strong support shown by the local authorities, the project has all the attributes to be successful." 
However, Karl-Heinz Legler, general manager of Rutherford Global Logistics, noted that the port of Quebec did handle box traffic in the 1970s, but subsequently concentrated on breakbulk cargo, while container carriers went further up the St Lawrence to Montreal, which has been the primary gateway for traffic from Europe heading through Canada to the US Midwest. 
Montreal has had some fluidity issues in recent years, but these have largely been addressed, he said. 
As for imports from Asia, he doubted that a global operator would send a large vessel from Shanghai up the St Lawrence to Quebec rather than discharge containers at the port of Halifax. As for exports to fill vessels on the return journey, Quebec's hinterland does not generate much traffic, so carriers would have to rely on feed from further inland. 
"Maybe they have something up their sleeve I don't see," said Mr Legler. But he said Hutchison Ports had deep pockets and "they are not an organisation that dabbles in uncertainties". 
He added: "Maybe they look to a southern rail link to the US that would bypass Montreal, which all intermodal trains currently have to pass through to alleviate track congestion." 
Last August, the port of Quebec appointed marine veteran Don Krusel as managing director of the project. Previously Mr Krusel was president and CEO of the port of Prince Rupert, overseeing its meteoric rise to become a major gateway for transpacific container traffic.
A spokesman for the port of Halifax had no comment on the ambitions upriver, saying the port preferred to concentrate on "working with its partners to improve solutions". 
The port of Halifax has just garnered C$47.5m in federal funding to boost capacity and improve access and plans to construct a rail spur to connect two container terminals at opposite ends of the harbour, and set up a container yard at Fairview Cove Terminal, one of the two facilities. In addition, it will bring in four rail-mounted cranes. 
It also plans to upgrade the main access road to the port, aiming to remove about 755 of the container trucks that currently drive on the peninsula.