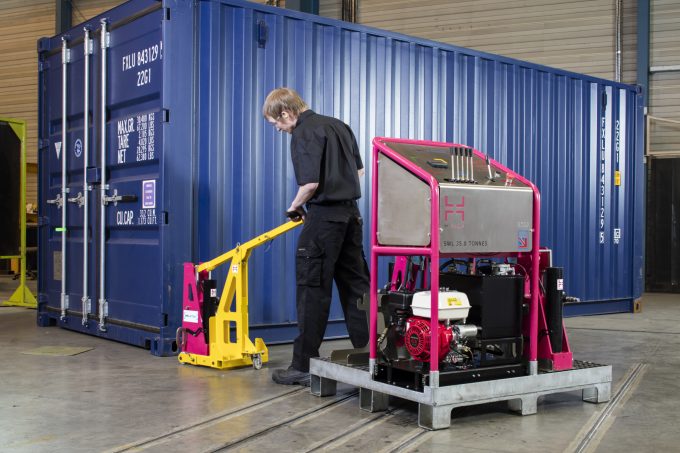 As the deadline for shippers to deliver the verified gross mass of their export containers to their shipping line draws ever closer, two portable weighing solutions have been introduced by technology firms.
In some jurisdictions, ports have stepped into what is rapidly becoming a yawning breach of weighing capacity and informed local exporters that they will offer container weighing solutions either at terminal gates or within terminal grounds.
However, other jurisdictions, such as New Zealand, say their ports will not accept a container arriving at the gates without a VGM.
"All export bound containers from road, rail or coastal transhipment vessel must have the VGM information before they are received onto a port container terminal. No VGM, no entry," said a joint letter from New Zealand's port companies to exporters a few weeks ago.
As result, New Zealand company Bison was one of the first to develop a mobile container weighing system that used four load cells inserted under the corners of a landed container lifted by jacks to determine the box's weight.
It has since extended its range and launched the C-Legs weighing system. This will allow shippers to weigh a container when it is loaded onto a truck chassis, by using four trolley-mounted steel legs that take the weight of the container when it is raised by the chassis' pneumatic system. A video of the system can be seen here.
Container weighing is now becoming an increasingly well-populated marketplace – UK firm Hy-Dynamix introduced its Hy-Weight system last week.
The system can weigh containers of up to 35 tonnes and uses four corner hydraulic elevation jacks, raising the container and displaying the weight in increments of 50kg via a digital read-out.
Hy-Weigh is self-contained on a specially designed pallet, and its controls allow for individual corner raising and lowering.
Hy-Dynamix managing director Graeme Parkins said: "We have designed a product which is simple, easy to use, and reliable, with no complex software or electronics.
"Hy-Weigh removes the need for dedicated container craneage weighing systems and weighbridges; it is easily deployed and moved around a facility, and we are very proud to say it is manufactured in the UK," he added.
Several simple solutions to the forthcoming VGM requirement have been developed, mitigating many shippers' complaints that the technology would be prohibitively expensive.
However, at a roundtable discussion at last week's Multimodal event in Birmingham, suppliers of weighing equipment warned shippers that orders were piling up globally and there was likely to be a considerable fulfilment backlog when the new regulations come into force on 1 July.