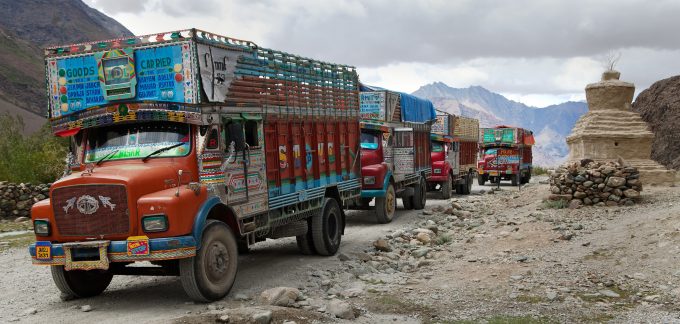 Maersk is partnering with Indian online marketplace Blackbuck in an effort to modernise the country's container trucking supply chain.
The move comes amid "ambitious" efforts by the Indian government to reduce logistics costs to 9% of GDP by 2022, a drop of 5%.
Head of sales for Maersk in South Asia Arjun Maharaj said: "Our customers are dealing with fragmented vendors with varying service levels of communication, geographical, financial and infrastructural disparities, resulting in suboptimal supply chains.
"We are committed to working with partners that understand these challenges, match our set of values and have expertise in both logistics and technology."
Blackbuck will own and operate the, as yet unbranded, neutral platform, with Maersk supporting in the development of solutions that will benefit container trucking.
It said the platform would "reduce touchpoints within the supply chain, in turn improving customer experience by matching demand and supply throughout the year, while also providing consistent real-time visibility and control across transit".
The co-founder and chief operating officer of Blackbuck, Ramasubramaniam B, said the company had spent four years working on its systems.
"We developed our robust product to maximise billable kilometres of a truck, delivering higher realisation and driving a low-cost transportation network to shippers," he said.
"Our product will add significant value to the containerised trucking industry in India that has the additional complexity of meeting the timelines of sea freight connections, apart from other regular trucking related challenges.
"Maersk with its industry specific knowledge and expertise, will help us transform this space through digitisation."
The move is not Maersk's first foray into attempting to digitally transform India's supply chain; last year it launched the OceanPro accelerator programme.
Solutions developed by several start-ups in the first cohort of OceanPro are already being implemented through various services to accelerate technology innovation across the shipping and logistics sector in both India and on a global scale.
Head of product for Maersk in South Asia Bhavik Mota said: "We're collaborating with start-ups that will help us solve landside logistics challenges in India by not only reducing costs, but also creating efficiencies for all the stakeholders in the value chain."
India's supply chain is viewed as corrupt and needlessly complex, with outdated systems in place. One source told The Loadstar it was not just a case of "too much red tape", but also "too much government interference".
Efforts are under way to combat this, with the government announcing a partnership with the Maritime Anti-Corruption Network (MACN) to tackle corruption in the ports. The effort launched a pilot scheme in Mumbai earlier this year which is set to run until October.
The Copenhagen-headquartered MACN, which has launched successful programmes to target corruption among port and government officials in Argentina, Nigeria and on the Suez Canal, said it would bring this experience to help India's ports.