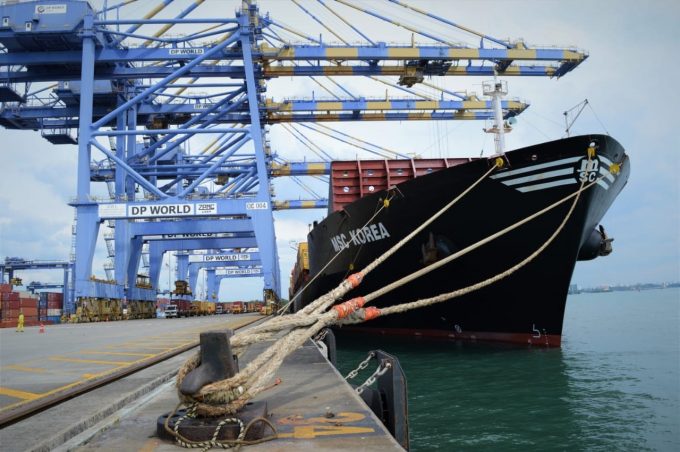 Indian exporters and freight forwarders should not expect freight rate levels to plateau or slide any time soon, as fresh general rate increases (GRI) are on the way.
MSC will impose a $1,500 per container GRI for Indian shipments to the US and San Juan (Puerto Rico) from 4 July, as well as a peak season surcharge (PSS) of $500 per box on its India-US connections, sending current average rates further northwards as the supply side looks set to tighten in the weeks ahead.
The carrier explained in a customer advisory today it was "in order to maintain the high level of reliability and efficiency of our services to meet the needs of our customers".
MSC is a leading operator on the India-US trade, competing directly with the joint network of Hapag-Lloyd and CMA CGM.  The Geneva-based liner has three weekly West India-US east coast sailings – the Indus Express, Indusa and Indusa 2 – which have been enhanced with additional port calls to take advantage of the demand spike.
Although some extra capacity, by way of supplementary strings or ad-hoc deployments, has found its way into the resurgent tradelane, market conditions remain heavily tilted in the carriers' favour.  This scenario can only get more supply-centric if carriers move to prioritise higher-paying Chinese volumes as Covid-related restrictions there loosen up.
"More China exports could mean capacity reductions and rate hikes for Indian shippers," a Mumbai-based freight forwarder told The Loadstar.  "We are watching the market indicators closely."
Tim Tudor, CEO of ECU Worldwide, told The Loadstar: "We have noticed some rate stability in the last few months, not only in the India-US trade but also out of Far East origins. We expect rates to move slightly upwards as we enter peak shipping season worldwide."
Another forwarder noted that cargo interests should not expect pre-pandemic freight rates, even when the industry hopefully sees some sort of normalisation in the supply chain ecosystem.
And Sylvester D'mello, director (operations) at digital forwarder Freightwalla, told The Loadstar while rates on some trades had become relatively stable in recent weeks, they were still about three times pre-pandemic averages.
Sunil Vaswani, executive director of the Container Shipping Lines Association (CSLA), however, noted that carriers had consolidated their empty equipment and loading capacity levels to keep pace with the Indian demand growth.
"During last year, the shipping lines repositioned 1.85m teu of empty containers from global origins into the country to help improve the availability of containers for exports," he said.
"In the same year, the shipping lines also introduced new services from India, which increased capacity to global destinations (including the US) by approximately 33,000-35,000 teu a week, thereby improving the space situation of the vessels to that extent. Both these efforts continue in 2022, although it is hoped that the infrastructural and operational bottlenecks in the US, which have so far contributed to the congestion, will ease."
But April-May data for Nhava Sheva/JNPA indicates a slowdown in empty repositioning, as the number of empties shipped in through the port was only 64,491 units, compared with 77,705 boxes in the previous two months.
With steady trade growth, the Federation of Indian Export Organisations continues to call on the government to provide the "necessary policy support" to rein in soaring logistics costs.
You can contact the writer at [email protected].