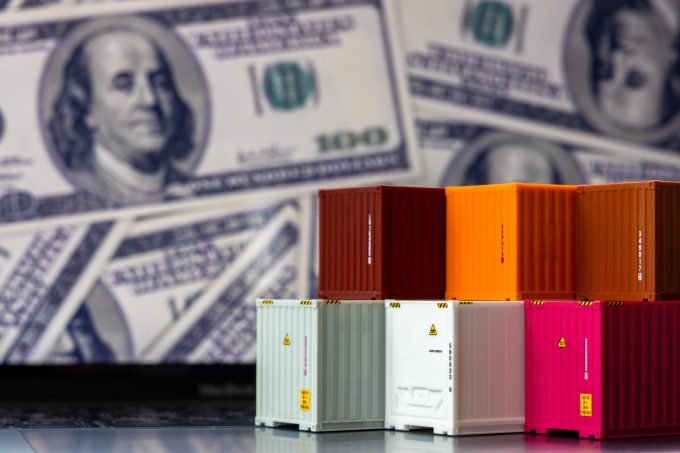 Maersk said last week this year's contract rates for its liner services were "trending towards spot rates" and, in fact, a momentum that appeared to be accelerating as agreements expired.
According to freight rate benchmarking firm Xeneta, there is a "fundamental shift" in the ocean freight market which has already significantly narrowed the spread between spot and contract rates.
Xeneta's crowd-sourced data for five main headhaul routes from Asia provides evidence of huge discounts ocean carriers have already agreed for new deals, with a big chunk of 2023 contracts still to be negotiated and signed.
It said as of the middle of December, shippers reported they were paying an average of $3,900 per 40ft more than spot prices on long-term contracts from Asia; however, by 12 February, Xeneta said the contract premium had shrunk to just $810.
Indeed, with many Asia-Europe annual contracts still to be finalised, and the official May-to-May transpacific contract season yet to kick off, any new index-linked deals are likely to be fixed on, or around, current spot prices.
Peter Sand, chief analyst at Xeneta, said although long-term rates had "initially weathered the storm", the comfort zone for carriers between spot and contract rates was now "all changing".
"In the end, market forces have proved irresistible," said Mr Sand, who noted there was more unwelcome news for carriers on the duration of new contracts.
He said 20% of Xeneta customers polled during a recent webinar said they were shortening the length of new contracts and only committing for between three and six months, "to benefit from what is expected to be a continued downward trend".
Meanwhile, the spot markets continue their weekly decline, which has seen export rates from China to Europe and the US slump between 80% and 90% from levels of a year ago.
Xeneta's Asia-North Europe component slipped another 2% this week, to an average of $1,637 per 40ft, while rates in the market are being touted by carriers at less than $1,000 per 40ft.
For Mediterranean ports, Drewry's WCI reading dropped 3% on the week, to $2,581 per 40ft.
For the transpacific Asia to US west coast route, FAK rates are readily on offer at below $1,000 per 40ft, with the Freightos Baltic Exchange (FBX) recording a slight slippage in its average spot rate this week, to $1,244 per 40ft.
And the premium for US east coast ports continued to erode, the WCI component losing another 4% this week to take the average rate below $3,000, to $2,996 per 40ft.
However, the transatlantic tradelane remains lucrative, for now, for carriers, albeit the XSI shed another 3% this week, to $5,269 ahead of a big injection of capacity by carriers.
Notwithstanding the sharp correction in the container market, ocean carriers do not appear to have lost their appetite for ordering more ships.
Following the naming ceremony for the 24,188 teu OOCL Spain in China this week – the first of a series of six mega-ships ordered by the Cosco subsidiary expected to be delivered this year – comes news of MSC's $1.2bn order for ten 11,500 teu, LNG dual-fuelled ships to take the carrier's orderbook to a massive 1.8m teu.
To hear the latest on freight rates, check out this clip from The Loadstar Podcast of Peter Sand, chief analyst at Xeneta