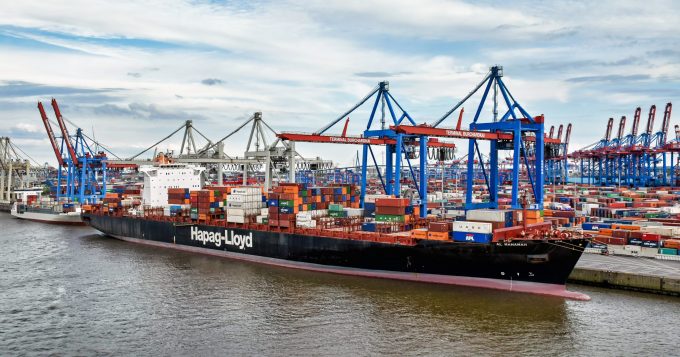 Hapag-Lloyd has reacted to the 2M's decision to terminate its slot charter deals with rival carriers by launching a standalone China to North Europe loop.
From April, Hapag-Lloyd will commence the direct service outside its THE Alliance VSA linking the Chinese port of Dachan Bay with North Europe's third-largest container hub, Hamburg.
Dubbed the China Germany Express (CGX), the two-port loop will deploy eight panamax vessels and offer a 27-day headhaul transit time.
"It will replace our Far East Loop 6, 7 and 8 services, all slot charters on 2M services," said the carrier.
Hapag-Lloyd surprised the industry in January 2020 by signing the slot-charter deal with 2M partners Maersk and MSC to buy space on the 2M's AE2/Swan, AE5/Albatross and AE10/Silk loops for its own loops 6, 7 and 8.
At the time Hapag-Lloyd said the agreement would "offer a higher frequency to some destinations" and "a direct service between ports either not served by ships of THE Alliance or not directly paired".
Analysts suggested that access to direct calls at Scandinavian and Baltic hubs via the 2M loops was the main interest for the German carrier and, at the time, the 2M welcomed the additional guaranteed revenue.
Meanwhile, despite the new CGX service only calling at Hamburg, Hapag-Lloyd will be able to use commercial feeders for onward carriage and still achieve a very respectable total transit time for its Scandinavian and Baltic import customers.
Hapag-Lloyd said the first sailing of the new weekly service was scheduled for the beginning of April. So far, the carrier has not named any vessels that will be deployed on the loop, but due to the lack of open charter tonnage on the market, it will probably need to source ships from other services within its network.
Andreas Buetfering, senior director trade manager Far East at Hapag-Lloyd, claimed the new loop's "fast connection" would "reduce the complexities" and "increase reliability" for customers.
The Loadstar understands that Hapag-Lloyd has a base of contract cargo for the new CGX service that needed to be protected. Moreover, increased long-term rates, probably agreed subject to reliability and transit times, can support the high cost of the standalone small ship service.
The news from Hapag-Lloyd comes just a day after MSC announced that the 2M was ending its Asia-US west coast slot charter agreement with South Korean niche carrier SM Line from May, and a week after the 2M and Zim said their collaboration on that route, along with the MSC-Zim deal on the Asia-Mediterranean tradelane, would cease in April.