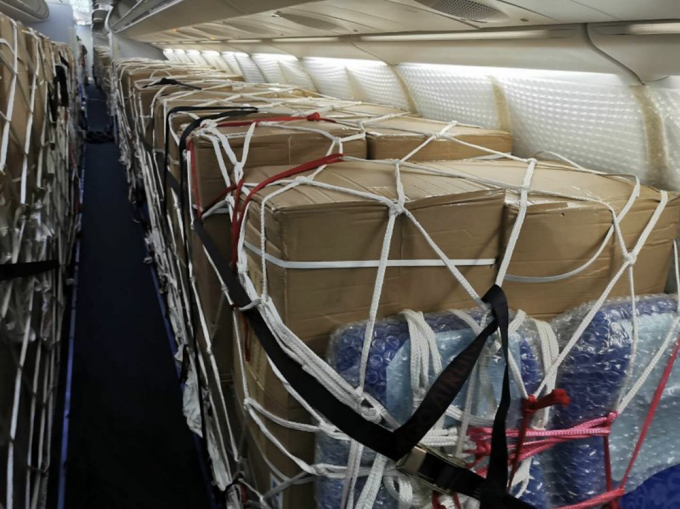 ● FreightHub imports 20 million protective items to Germany, which corresponds to approximately 50 percent of the weekly demand in the healthcare system of the entire country.
● FreightHub brings together importers and companies, expanding their offerings to include masks and protective clothing, and ensures that the goods are quickly transported to Germany.
● FreightHub works with various airline partners to charter passenger aircraft for cargo transport to ensure rapid delivery
April 22, 2020 – The spread of the coronavirus and the expected easing of the lockdown have massively increased the need for medical and non-medical protective equipment worldwide.
According to Health Minister Spahn, the German health care system alone has an annual requirement of approximately 1.5 billion masks and mouth-nose protection. The lack of flexible and affordable logistics solutions prevents protective equipment that is in stock in other countries or could be produced elsewhere from meeting the growing demand in Germany in the short term.
To counteract this situation, FreightHub collaborates with companies that have previously imported goods such as tea, household items, or car parts from Asia, and are willing to expand their product range to include urgently needed protective equipment. To ensure that these protective items arrive in Germany quickly, new supply chains based on large airfreight capacities must be established. On the other hand, the rapidly changing regulations for the movement of goods due to the pandemic must be addressed and met by FreightHub's flexible transport solutions.
Thanks to its large partner network of importers, its broad presence in China, and its flexible and
extensible technology platform, FreightHub has already been able to arrange the transport of
approximately 20 million protective items from Asia in recent weeks, which corresponds to
approximately 50 percent of the weekly demand in Germany's healthcare system.
Michael Wax, Chief Commercial Officer and Co-Founder of FreightHub: "With the start of the global lockdown and the decline in air freight capacity, extreme bottlenecks have developed for importers of urgently needed medical supplies. At the same time, import and export regulations have become more complex and stringent, often changing weekly. Central procurement is proving to be inflexible here.
"As part of our initiative, companies have reorganized themselves in a new and decentralized manner, including suppliers who have not previously imported protective equipment. With the help of our technology platform and our extensive network in Asia, we have been able to build new trade relationships between manufacturers, importers and authorities in Germany, thus, helping to find a remedy to the bottleneck as quickly as possible."
To ensure the flow of goods, FreightHub's Medical Equipment Taskforce has implemented a
comprehensive package of measures. Initially, the airfreight service was expanded to include
chartering unused passenger aircraft with its airline partners in order to quickly allocate and provide capacity.
In order to meet the ever-changing export requirements in China at short notice, FreightHub's local offices in China now handle the additional documentation checks directly on site. In addition, importers can use FreightHub's order management technology to track and plan the status of the order, and the corresponding transport in detail – an important planning information, especially for urgent goods that require further distribution in Germany.
As a result, FreightHub is offering its order management platform free of charge to interested parties during the period of the immediate corona crisis (currently for up to three months). In addition, FreightHub connects other importers and producers to keep the timing and quantity of imported protective items at a consistently high level. "We are pleased that our initiative has been so well received that manufacturers and importers are now approaching us directly and want to be part of it," says Michael Wax.
Due to the rapid market and information changes in view of the CoVid19 crisis, FreightHub makes
current information on international trade and the transport of protective equipment freely available to all market players on its "ExpertHub" blog (German). The blog highlights import regulations and customs information for the transport of protective equipment.