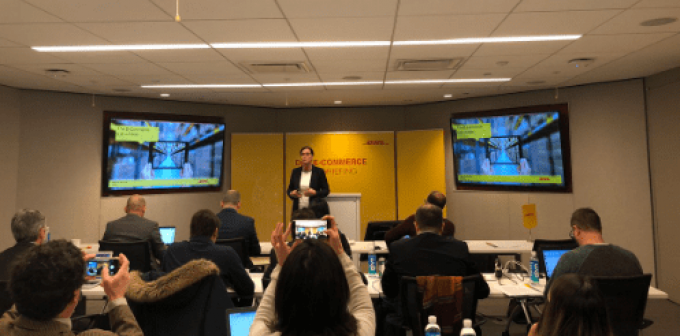 Ballooning urbanisation and the spread of smartphones has increased the complexity of last-mile logistics, according to a new report.
Shortening the Last Mile, put together for Deutsche Post DHL by Euromonitor International, found that in the past decade, the world's urban population grew almost 25%, while e-commerce sales soared 451%.
And chief commercial officer of DHL Katja Busch said despite this massive surge in online sales, profitability for logistics operators had been hobbled.
She said: "Even now, it is still incredibly hard to earn anything as a logistics operator active in the e-commerce market.
"I believe this is a problem that has existed since the market's birth, with the offer of 'free shipping' being the big draw for consumers."
Ms Busch said, despite claims of e-tailers, there was "no such thing" as free shipping, but rather a game of "who will blink first".
According to the report, problems faced by last-mile operators are being exacerbated by consumers expecting more.
"Consumers are more urbanised, more connected, wealthier and shop more than ever before," it claims. "They now prioritise products and services that lighten the day's tasks, fulfill errands quicker and generally make their lives more convenient.
"At the same time, they expect the products offered to them are environmentally friendly and sustainable."
Ms Busch said consumers were "more and more demanding", there was still a "historical belief" that they did not have to pay for better services.
Furthermore, she described last-mile as the "most complex" part of the e-commerce process, the area "most likely" to lose money.
She added: "Perhaps the biggest clash we face is between the expectations of the consumer and the expectations we have of ourselves. If we do not reach the consumers when they expect their delivery, they will stop buying from that e-tailer, so we need to ensure the parcel arrives on its first attempt."
And there does not appear to be any easing of the logistics burden in sight, the report noting that by 2030, the world's population will have increased by another one billion.
And of the 2030 population, Euromonitor expects 60% to be living in urbanised areas, the majority in the present world's emerging markets.
The report adds: "There will also be a 47% growth in the number of consumers aged 65+, who are healthier and wealthier than any of their predecessors in this cohort.
"Urban centres are ultimately projected to host more working residents with different cultural and socioeconomic backgrounds… with a higher purchasing power."
The full report can be found here: https://www.dpdhl.com/en/media-relations/specials/shortening-the-last-mile.html