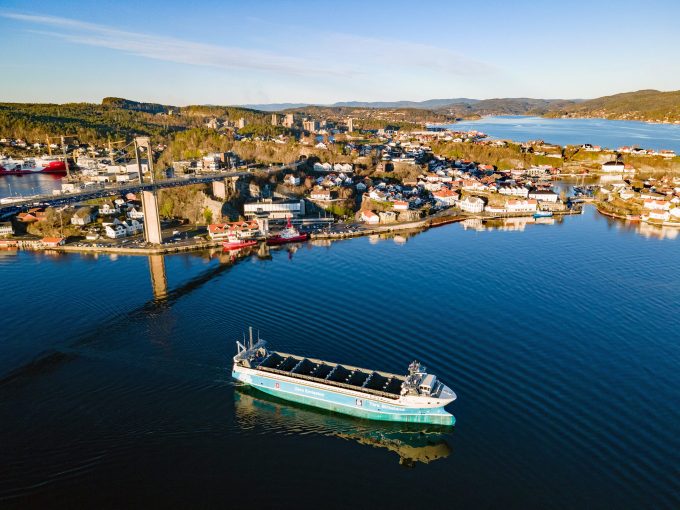 The Loadstar's coverage of COP26 is sponsored by Evergreen Line: leading the development of a sustainable global container transportation system
Support for the latest in a raft of declarations on shipping at Glasgow climate summit COP26 has come from maritime consultancy UMAS, which has backed the Clydebank Declaration.
This sees 21 nations agree to create emission-free corridors that will encourage the development of alternative fuels.
In an announcement today, the UK government published a policy paper signed by, among others, the US, France, Germany, Belgium, Denmark, Italy, Norway, Japan and Australia, to establish at least six green shipping corridors by the middle of this decade, and to develop "many more corridors" by 2030.
Green shipping corridors will be established by consenting signatories with "willing" supply chain partners, including ports and shipping lines, to "decarbonise a specific shared maritime route".
All participation in the green shipping corridor initiative is voluntary. However, the signatories to the Clydebank Declaration promise to:
facilitate the establishment of partnerships, with participation from ports, operators and others along the value chain, to accelerate the decarbonisation of the shipping sector and its fuel supply through green shipping corridor projects;
identify and explore actions to address barriers to the formation of green corridors,  which could cover regulatory frameworks, incentives, information sharing or infrastructure;
consider the inclusion of provisions for green corridors in the development or review of national action plans;
work to ensure that wider consideration is taken for environmental impacts and sustainability when pursuing green shipping corridors.
The declaration further states that while signatories recognise that zero-carbon fuels or technologies must be capable of not adding greenhouse gases to the atmosphere throughout their lifecycle, "including production, transport or consumption".
Nevertheless, the declaration also states: "All vessels transiting a green corridor would not be required to be zero-emissions or to participate in the partnerships."
Moreover, the current lack of available zero-emission fuels and technologies could make the green shipping corridors more of a wish than a realistic prospect for shipping today.
In fact, the International Chamber of Shipping (ICS)'s deputy secretary general, Simon Bennett, speaking at Ship Zero, a parallel conference to COP26 organised by the Zero Emission Ship Technology Association, told delegates the development of fuels and technologies was critical to the successful implementation of zero-emission technologies.
"The International Maritime Organization (IMO) must approve the IMO Maritime Research Fund (IMRF) for zero emission shipping to develop," said Mr Bennett.
The IMRF is a $2/tonne of fuel charge the maritime industry will pay into a R&D fund held by the IMO to develop new zero-emission technologies and fuels. In addition, the ICS has set out its plans for a carbon levy.
"While the ICS has set out the detailed regulatory infrastructure for a levy system, we have deliberately not proposed a quantum for the levy, because ultimately this is a political decision that will have to be taken by IMO member states taking account of the impact assessment of the economic consequences for maritime trade and national economies," explained Mr Bennett.
It appears shipowners have accepted the need for the shift to zero-emission fuels and that there will be a cost. Mr Bennett pointed out at Ship Zero: "To be clear, the only means of achieving the net zero targets is to ensure that the zero-carbon technology and fuels are available worldwide and as soon as possible."
Dr Tristan Smith, of UMAS, one of the authors of the Fourth IMO Greenhouse Gas Study, said: "IMO regulation will be really important for shipping's energy transition. However, we know it will take time. That's why initiatives like the Clydebank Declaration are so important – it allows the move to zero emissions to advance now, in parallel to that process."
However, Dr Smith argued that waiting for an R&D levy to be established was counter-productive.
"It shows that policy options like IMRF are not needed and are, in fact, unhelpful if they delay the implementation of policy support for deployment and use of zero-emission fuels."
He added: "It is increasingly clear shipping's transition is being driven by a network of national and plurilateral actions in combination with coalitions, both of early adopter customers (Cargo Owners for Zero Emission Vessels and the Federal Maritime Commission) and companies across the shipping value chain which are able to invest now because they see the scale of the opportunity and are positioning for their future market share."
And Dr Smith warned that the Clydebank Declaration was "a clear signal to those looking to LNG as a marine fuel that the window for that fuel is closing fast, something that will be accelerated by the increasing focus on methane's role in climate change – including the methane pledge".
To find out more about Evergreen Line's sustainability strategy, please click here