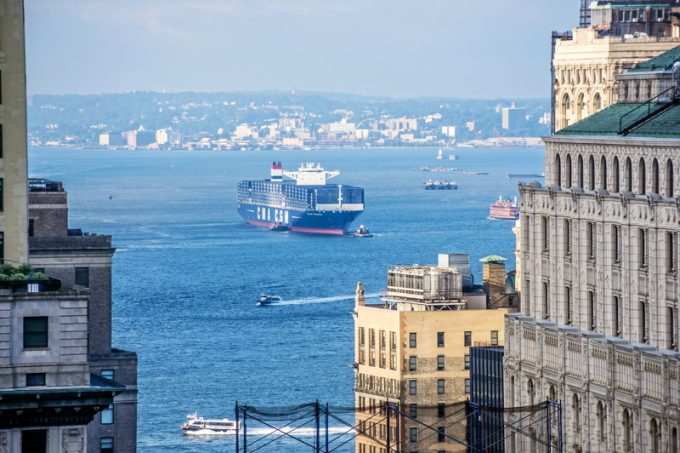 CMA CGM has promised to put customer experience at the forefront of its services as it looks to differentiate itself from other carriers.
Speaking on the sidelines of the TPM event in Long Beach last week, the carrier's senior vice president of commercial and agency network, Mathieu Friedberg, said it would adopt a twin approach of using greater digitalisation and human resources to create a more "customer-centric" culture.
"We need to have a 100% digital agency that does rate quotations, bookings and dispute resolution management, which lives alongside the traditional method of dealing with sales executives, and customers need to be able to move from one to the other in a seamless way.
"But I can tell you that turning 30,000 global staff into a customer-centric organisation is not an easy task – in a shipping model of rollovers and no-shows it is a big, big challenge, but we believe that changing the way we interact with our customers will bring more value to us.
"Customer survey after customer survey fails to show that we adequately differentiate ourselves from our competitors," he said, adding that he wants to introduce hotel industry levels of service to the French carrier.
"Just as the Marriott group provides a service that is bespoke to me on my travels, I want our customer to get the same level of service in Sao Paolo that he receives from us in New York.
"I want our customers to be served according to their needs – if you are a large NVO controlling millions of teu, in any other industry that would be a hell of a prize. But in our industry, the spread between a global 3PL compared with an independent forwarder that is big in a local economy – a local hero, as they say – is far less.
"You get forwarders controlling 1,000 teu a year which get 45 days' credit as well as all the other benefits we provide… should we be treating them the same as the NVO that ships 500,000 teu with us a year globally but has real problems with service in an emerging market where it controls only a handful of containers?"
The line has also introduced a range of new products to help this shift in focus, including an insurance service named Serenity.
"It takes care of cargo insurance, a $40 premium would cover a $100,000 shipment, for example," he said, and it is also developing trade finance solutions for exports out of emerging markets; while the development of smart containers via its part-owned subsidiary Traxens is being rolled out with some customers.
About 10,000 boxes are now "smart" – "ultimately around a 30% of our fleet would be ideal".
It has also begun developing a pilot programme with some shippers to help optimise container flows through its transhipment hubs. Mr Friedberg explained: "We recently had one petrochemical shipper moving volumes out of the Read Sea and Middle East gulf into South-east Asia.
"However, due to the nature of the business, they didn't know where the end destination of the goods would be for some time, so we handed over an area of one of our transhipment hubs in the region to them so they could manage remotely the onward despatch of specific boxes," he said.
"But we can't do that unless we control the hub, so it is something we are looking at replicating in ports such as Tangiers, Malta and Kingston."