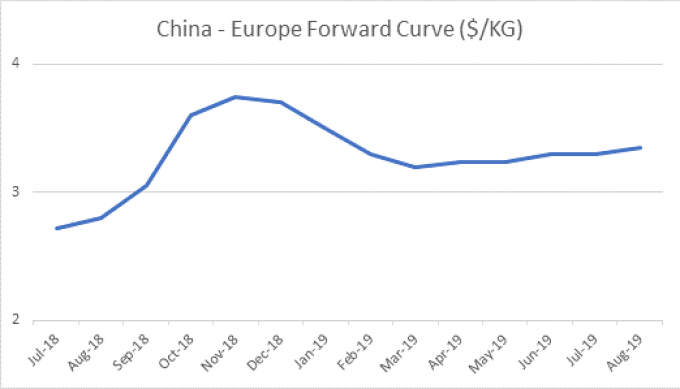 Air freight rates on the China-Europe route surprisingly declined this week but are expected to rise, according to the new forward curve published by the TAC Index in conjunction commodity broker Freight Investor Services (FIS).
It recorded a rate of $2.65 per kg this morning, a drop of $0.04, reversing a trend of steadily increasing rates, FIS said.
"Air Cargo rates have seen a steady rise in recent weeks, possibly owing to capacity shortages, while Nippon Cargo Airlines opted to ground 11 of its fleet, along with the rush to fly shipments to the US ahead of the introduction of Trump's new trade tariffs.
"Given this, the slight dip this week is surprising and we expect to see rates rise steadily again throughout July despite the usual summer slowdown," it said.
The forward curve – the culmination of FIS work with users and index-provider TAC Index – suggests that in the third quarter, China-Europe air freight rates will range between $2.80-$3 per kg, increasing to between $3.50-$3.60 per kg in the fourth-quarter peak season.
Then they will drop back down to to $3.20-$3.40 per kg in the first quarter of next year.