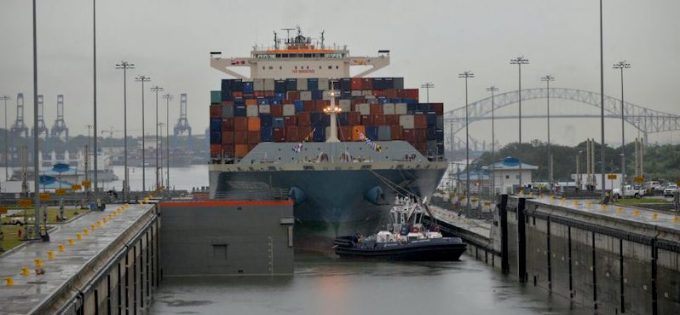 Despite the uncertain long-term outlook for demand following the outbreak of trade war skirmishes between the US and China, transpacific headhaul volumes so far this year are proving robust – especially for US east coast ports.
London-based ClipperMaritime's latest monthly Container Horizons report highlights a 16% surge in container volumes from China to US east coast ports in a rolling 12-month period to February 2018.
This compares to a growth of 5% in volumes for US west coast ports in the same period.
The analyst said that although carryings were somewhat skewed by the late timing of the Chinese new year, with factory closures two weeks later this year, its full-year growth forecast for the US east coast "could reach 10%" adding almost 600,000 teu to the tradelane.
Taking full advantage of this cargo shift ocean carriers are in the process of upgrading the ships servicing the route from the 8,000 teu vessels deployed after the opening of the widened Panama Canal in 2016.
The trade development impact from the expanded waterway, along with port upgrades, including the lifting of the Bayonne Bridge in New York, has been a "huge boon for ocean carriers as they find homes for big ships released by the ongoing cascade", noted the report.
Neil Dekker, ClipperMaritime's lead container consultant said: "The Ocean Alliance members have seen the light and have decoupled their Manhattan Bridge pendulum service and from this month will deploy 13,000 teu ships on the new string."
The report said there are more newbuild vessels being received from the shipyards in Asia that are being deployed immediately onto the Asia to USEC trade.
The lower unit costs of the bigger ships combined with significantly higher freight rates – the Shanghai Containerized Freight Index (SCFI) recorded a spot rate of $2,433 per 40 ft for the US east last week, compared to $1,468 for west coast ports – is the obvious attraction for carriers.
Indeed, ONE has deployed the 14,062 teu NYK Wren to THE Alliance's Asia-USEC EC4 string via the Suez Canal and over the next few months a further three 13,870 teu ONE newbuild ships will join the service.
However, ClipperMaritime points out that there is a looming threat to the migration of cargo to the east coast of America in the form of the renewal of the longshoremen contract scheduled for September, which could reverse the momentum of the cargo shift if negotiations prove problematic.
The previous six-year east coast labour contract signed in 2012 followed months of disruption in which for importers the uncertainty – rather than actual stoppages – changed the way cargo was routed and the timing of orders for a considerable period.
Meanwhile, ClipperMaritime said that capacity management on global trades "is at a major crossroads" as carriers upgrade services in the right trades and deploy the big ships sensibly.
"But it could end badly for operators if they are not careful," it cautioned.
On an optimistic note Mr Dekker concluded: "Ocean carriers are adapting to the challenge quickly as evidenced by 2M's decision to unravel its AE6/TP6 Asia- North Europe pendulum which means it can now upgrade an end-to-end service with ULCVs of 18,000 teu."