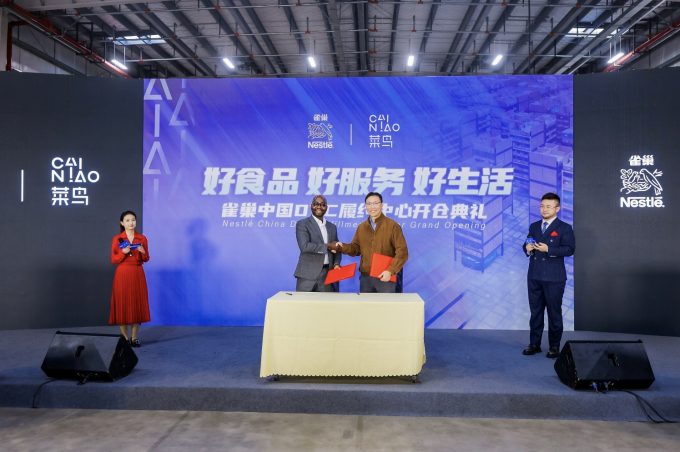 PRESS RELEASE
·       Key areas include Nestlé's B2C and B2B fulfillment businesses, digitalized supply chain and sustainability, as well as DTC fulfilment, logistics automation and Internet of Things (IoT)
·       Launch of Nestlé's first smart DTC fulfilment center in China which will later serve as the central fulfilment center for its growing private domain & social commerce business
·Consumers will benefit from superior logistics services when purchasing products from Nestlé
[25 November 2022] – Cainiao Network, ("Cainiao"), the logistics arm of Alibaba Group Holding Limited, today announced that it has entered a strategic partnership with Nestlé China. The partnership will focus on deepening collaboration across Nestlé's smart supply chain and its brands such as Starbucks at Home, Hsu Fu Chi, Wyeth and Totole. Key areas include Nestlé's B2C and B2B fulfillment businesses, digitalized supply chain and sustainability, as well as improvements to direct-to-consumer (DTC) fulfilment, logistics automation, Internet of Things (IoT) technology among others.
As part of this partnership, Cainiao and Nestlé have jointly established an automated DTC fulfilment center in Jiangsu, China. Leveraging its expertise and experience in supply chain management and smart logistics technology, Cainiao has provided tailored logistics solutions and introduced automated systems to enhance productivity and reduce manual operations in the facility.
For example, the implementation of AGV robots in the facility has enabled the shift from manual picking model to automated sortation and picking. Compared to the previous labor- and time-intensive manual picking model, the automated sortation and picking process has helped to increase productivity by approximately three times, and reduced the number of steps taken per staff by over 20,000 steps daily.
To further streamline business processes and drive operational efficiency across the supply chain, Cainiao's new digital supply chain control tower will serve as the backbone of supply chain management. The control tower can integrate numerous systems to achieve human-machine collaboration and full-process automation. It is also capable of detecting anomalies and delivering intelligent diagnoses that guide strategic and data-driven decision making. It acts as a consolidation tool by providing a myriad of situational analyses across each operational aspect in the value chain, from planning, procurement, production, storage to logistics, to optimize inventory turnover and warehousing. This increases overall competency and resilience of the entire supply chain.
In addition, Cainiao's smart and digitalized supply chain will be able to offer Nestlé with greater visibility to effectively manage market changes. For example, smart warehousing and inventory management can facilitate real-time data exchange to better support fluctuating consumer demand. This will contribute towards Nestlé's increasing focus on establishing a consumer-centric supply chain network.
Going forward, this fulfilment center will play a pivotal role in supporting Nestlé' core brands expansion into the DTC model. With a dedicated DTC channel, Nestlé will be able to offer Chinese consumers with superior logistics service for its food and beverage category products. In the future, the DTC fulfilment center will also serve as the central fulfilment center to support the expansion of its social commerce business on platforms such as WeChat, Douyin etc.
"The launch of Nestlé's DTC fulfilment center marks a new milestone in our longstanding partnership. With a focus on long-termism, we strive to support Nestlé with holistic and sustainable supply chain services," said Wan Lin, CEO of Cainiao Network.
"Upholding a consumer-centric operation and business philosophy, we strive to provide consumers with 'farm-to-table' product offerings. Together with Cainiao, we believe we can establish an efficient, responsive and resilient supply chain with a human touch," said Tony Domingo, Senior Vice President of Supply Chain and Procurement, Nestlé Zone Greater China.