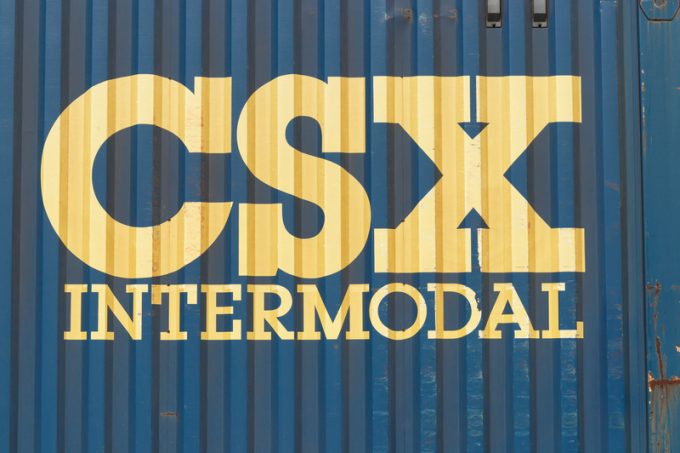 The US economy is showing signs of slowing, but remains on an upward trajectory for now – intermodal traffic, however, appears trapped in a downward spiral, with the coming peak season expected to provide only temporary relief.
The Intermodal Association of North America (IANA) reported a 3.8% decline in intermodal volumes for the second quarter, with the seven top trade corridors, in terms of density, that account for 63% of total volumes, showing a 6% drop.
The decline aggravated a dismal trend from the first three months of 2019, when IANA saw volumes fall 1.5%, dragged down by domestic container and trailer volumes declining 4.1% and 5.4% respectively.
The domestic and international segments are roughly equal in size, but the former has fared significantly worse. The international sector actually eked out a 0.6% gain in the first half of the year, but domestic volumes are down 6%, after a 7.7% drop in the second quarter.
America's large rail carriers are not pleased with their intermodal results. CSX, which reported Q2 declines in revenue and profit, blamed weakness in its intermodal business, while BNSF suffered a 3.1% drop in intermodal traffic and Union Pacific registered a fall of 9.5% in this segment.
Schneider National, which added 3,500 new containers to its fleet last year, reported a 2% increase in intermodal volumes in the second quarter, but its operating income sank 6%, due to higher transport costs and lower asset utilisation.
Intermodal traffic in the US has now lost market share in four consecutive quarters – its worst spell since the recession of 2009.
Notwithstanding recent weakness, the trucking sector, on the other hand, showed 2.4% growth in long-haul loads in the second quarter, albeit down on a year earlier.
And a year ago ,shippers were scrambling to secure intermodal capacity. Industry executives and observers are struggling to pinpoint the causes of the reversal.
"We had hoped domestic intermodal volumes would have recovered more at this point," said Joni Casey, president and CEO of IANA.
"Most of the issues that impacted these volumes were one-of-a-kind occurrences – weather, flooding, network adjustments and inventory pull-downs. Volumes for the rest of the year are dependent on economic factors, highway capacity and ongoing trade policy decisions."
Some have blamed trade conflicts, but this does not explain the heavier drag on the domestic side, or the relative gains by the trucking sector.
The rail lines have also been affected, particularly efforts at CSX and Union Pacific to move to precision railroading, which has entailed the closure of routes and terminals. And truckers have expressed frustration at long wait times to drop off and collect containers and with rail companies' demands to re-position containers.
There is little argument that developments in the trucking sector have played a major role. As demand eased and trucking capacity became more readily available, shippers have turned more to using road, a trend reinforced by aggressive pricing from trucking firms, whereas the rail carriers have, by and large, stuck to their pricing policy. At the end of July, trucking spot rates from Los Angeles to Dallas were 20 cents lower than intermodal prices, according to FreightWaves.
The coming peak season should improve the picture for intermodal marketing firms and rail carriers, but there are widespread doubts about a sustained recovery for the sector.
Schneider, for one, slashed its full-year earnings guidance of 14% when it presented its results for the second quarter. Management expressed hope that truckload capacity would tighten and trade conflicts ease, but treats these as uncertainties.