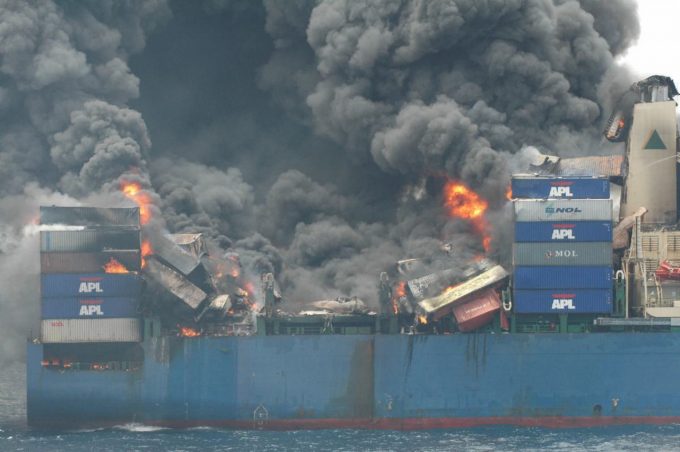 Onboard firefighting regulations have not kept pace with the rapid increase in the size of containerships, and the steel box used to transport goods is a fire risk, a maritime industry conference in London concluded.
Hosted by the London Branch of the Nautical Institute, on board HQS Wellington, industry stakeholders heard from speakers representing the insurance, surveying and salvage sectors on increased fire risks aboard today's containerships.
One insurance delegate said, during a post-conference networking session, she was "shocked" by the serious issues from the day's presentation.
"It seems like container shipping is an accident waiting to happen," she added.
Peregrine Storrs-Fox, risk management director at the TT Club, said approximately 10% of all containers loaded onboard ships contained declared dangerous cargo (DG).
But he estimated that around 5% of containers shipped consisted of undeclared dangerous goods – either due to administration or lack-of-training errors by shippers, or by being deliberately misdeclared by rogue shippers.
Alarmingly, he said it followed that there could 1,000 teu or more of undeclared DG containers loaded onboard any 24,000 teu  ultra-large container vessel (ULCV) on each headhaul voyage.
Including the most recent fire on the 4,253 teu Zim Kingston, off Vancouver, following the collapse of a deck stack and loss of over 100 containers overboard, there have been 16 serious containership fires in the past five years, resulting in tragic loss of life and millions of dollars in general average claims.
Moreover, there are many more less serious fires and explosions onboard containerships that don't make the headlines, with Gard P&I estimating there to be one fire involving containerised cargo every two weeks.
The marine insurance industry shudders at the potential risk presented by an ULCV casualty; the average value of the contents of each container is put at $100,000, notwithstanding the potential for huge environmental clean-up costs.
Various speakers at the conference argued that the current SOLAS onboard firefighting regulations were "not fit for purpose", given the huge increase in the size of container vessels and the limited ability of crew to react to a fire.
Naval architect William Boyd, a director at TMC Marine, said the statistics of containership fires strongly suggested "that there is an urgent need for change".
He noted that some shipping lines, including MSC, had recognised the increased risk of fire on large containerships and had invested in firefighting equipment in excess of the current SOLAS requirements in their newbuilds.
And Bas Michiels, VP at Dutch salvor T&T Salvage, said that, in the event of an uncontained ship fire, the number of firefighting tugs on standby around the world had decreased significantly, meaning that response times were longer.
"It's all about the cost, of course," he said.
Meanwhile, several delegates at the conference questioned why the 70-year-old container design, which in the majority of cases includes the provision of a highly combustible timber or bamboo flooring, had not changed to include a fire-resistant coating or mesh.
The Loadstar has ascertained from one container manufacturer that an intumescent mesh, similar to that used in the construction industry, could be retrofitted to a 40ft container for around $1,500.
"But there is not exactly a queue of clients wanting safety upgrades to their boxes," said the contact.
"It's all about cost," a delegate told The Loadstar on the side lines of the conference. "Until the insurance industry takes a tougher line, things will carry on as they are."
To hear a clip from The Loadstar Podcast of Michael Page, broadcast meteorologist at Flawless Forecast, on climate change, ship losses and containers overboard, listen here.