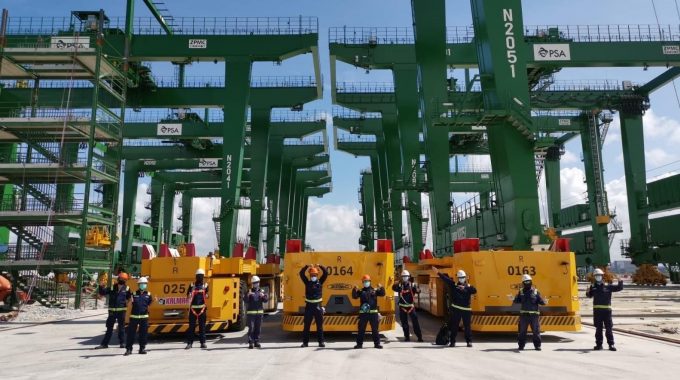 The first phase of Singapore's new mega-port has been completed, with two of the port's 21 berths set to be ready for use by year-end.
A commemoration event was held yesterday, with transport minister S Iswaran saying that the milestone, after 34 million hours of work over the past six years, was hard-earned, due to Covid-19 disruptions.
Tuas Port Phase 1 occupies 414ha, the size of 773 football fields, and will contribute 20 million teu to the annual handling capacity of Singapore, now the world's largest transhipment port with a capacity of 37.2m teu.
The 1,337ha, mega-port, in Singapore's western industrial Tuas estate, is on track to be completed by the 2040s and will be able to process 65m teu a year.
Mr Iswaran said the commemoration was "a significant milestone", and added: "With more ships calling here (as a result of the larger capacity), Singapore will enjoy even stronger maritime connectivity. We can harness network effects to import and export more quickly and at a lower cost.
"As a global hub, Tuas Port will bring even more value to companies in our international maritime centre and create more jobs for our people."
In anticipation of rising container volumes and the need to redevelop prime areas, Singapore's  government announced the Tuas Port development in 2012 – the South-east Asian city-state's fifth container port to be built since Tanjong Pagar Terminal opened in 1972.
In October, storage facilities in Tuas were opened early to take in containers to ease the logistical bottlenecks plaguing major ports.
The Maritime and Port Authority said it was working with the National Environment Agency to explore using mixed materials from the Semakau Landfill for the next three phases of Tuas Port, including greener concrete with a lower carbon content to align the project closer with the nation's green plan.