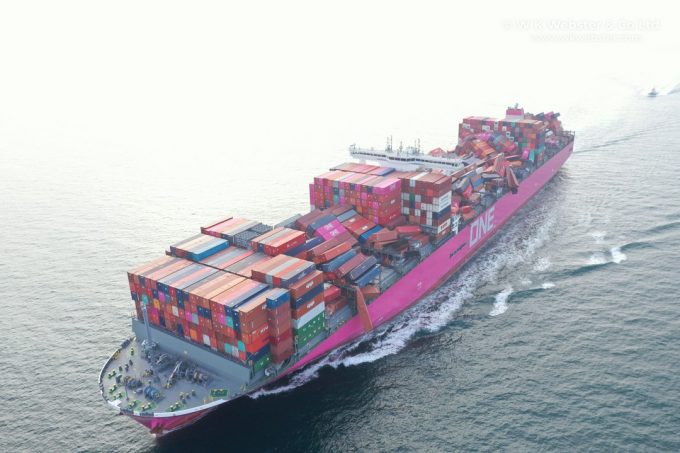 The 14,000 teu ONE Apus, which suffered a catastrophic container collapse in November that saw over 1,800 containers lost overboard and thousands of others damaged, could resume its journey to the US west coast by the middle of the month.
The Japanese carrier said that, by the end of last week, 940 containers had been removed from the vessel at the Japanese port of Kobe, adding: "Based on the latest assessment, ONE Apus is aimed to depart on or around 15 March.
"If that can be achieved, the estimated date to arrive Long Beach is on or around 30 March, again without guarantee and subject to change. Its berthing schedule will be reflected in its coastal schedule once information is available," it said.
The estimated date of departure of the vessel and resumption to trading means the prospect of ONE declaring general average has further receded, and the carrier indicated that many of the boxes the vessel originally carried would also resume their journeys.
ONE told customers: "The general plan is to back-load as many original sound and transloaded containers on ONE Apus as reasonably possible."
But it added: "It is likely that some containers originally carried on ONE Apus may need to be carried on different vessels due to safety and/or operational constraints."
Meanwhile, along the Japanese coast, at Yokohama, Maersk Line said port operations had begun on the Maersk Eindhoven, which lost around 260 containers en route from Xiamen to Los Angeles last month after an engine failure during heavy weather.
The carrier said cargo operations on the vessel at the APM Terminals' facility in the port could be completed by 5 March, under "a best case scenario", and the vessel is expected to resume its journey shortly afterwards, depending on port authority approval.
Maersk said: "Once the containers are discharged off the affected bays, our repair vendors, in conjunction with our fleet specialists, will assess if any additional repairs are needed.
"While the situation is still fluid, we are encouraged by progress so far and estimate the departure window to be 5-10 March, if all goes well. We are working with APM Terminals Pier 400 Los Angeles to expedite berthing and cargo operations once the vessel arrives there."