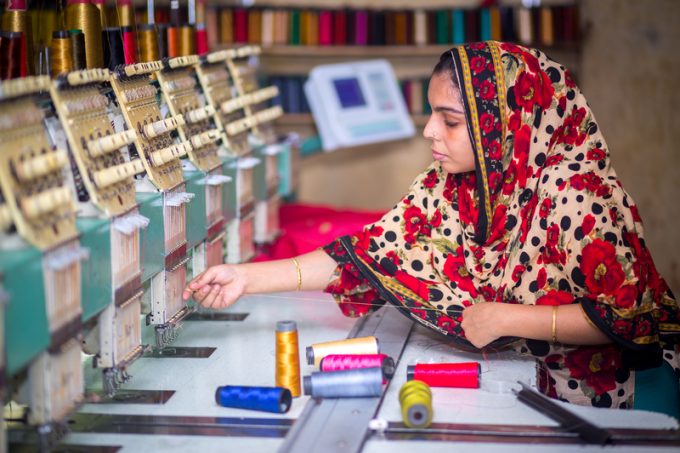 The world's clothing factory, Bangladesh, today announced an 'all-closed' week-long lockdown, starting on Wednesday.
It includes all factories, transport and shops, and will create uproar among the country's export-oriented industry.
Only the emergency services will remain open, and the movement of people will be severely restricted in a bid to stop the spread of Covid-19.
During the past few weeks, the number of infections and deaths has risen sharply as restrictions were more relaxed and allowed offices and factories to remain open.
News of the new shutdown is causing significant concern for apparel exporters, who have been trying to recover their battered market.
"The factory closure before the month of Ramadan and Eid ul Fit'r will have severe impacts on the export sector," said Mohammad Hatem, first vice president of Bangladesh Knitwear Manufacturers and Exporters Association (BKMEA).
He said the demand for goods was growing gradually, and work orders rising, although not to a pre-pandemic level yet.
Mr Hatem explained that during Eid ul Fit'r, factory owners would still have to pay salaries and festival bonuses to workers, which could cause financial problems.
He added that garment workers had not been unduly affected by Covid-19, claiming factories had "taken adequate safety measures".
"We think the factories should be allowed to operate during the lockdown. We urge the government not to keep the apparel sector under the purview of the shutdown," he told The Loadstar.
Bangladesh is the second-largest apparel exporter in the world, after China. The majority of its products are destined for Europe and America, where stores are reopening after recovering from pandemic-linked lockdowns.
Bangladesh's export earnings saw a robust 12.59% growth last month, compared with March last year, according to data released by Bangladesh Export Promotion Bureau this week.
The growth is supported by an increase of knitwear exports, though woven exports are still facing a sluggish situation. Jute goods, home textiles, leather and leather goods exports also saw significant growth last month.