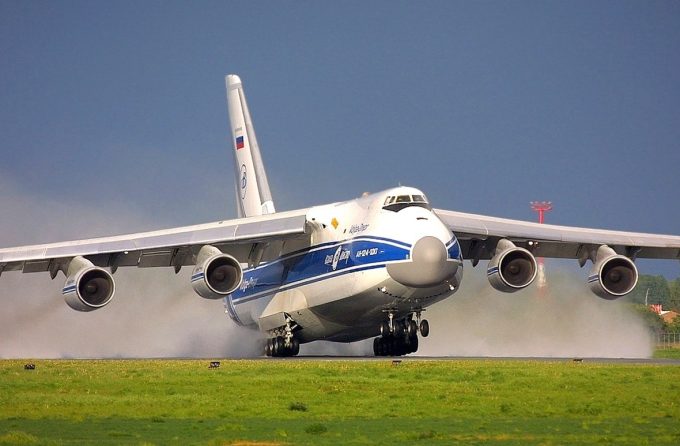 A Ukrainian court has ordered the seizure of five Volga-Dnepr AN-124s, alleging that the Russian carrier has not carried out legal maintenance checks. 
Antonov claims Volga-Dnepr and European maintenance subsidiary Amtes have done unauthorised checks on the aircraft.
The Ukraine' manufacturer said the checks could only have been approved by Antonov's MRO centre, and the aircraft are currently unable to fly into the country. 
Media reported that Roman Marchenko, from the Ilyashev & Partners law firm which represents Antonov, said in a statement: "According to Antonov Design Bureau, the investigators and the court, the admission of the An-124 to further operation is a violation of the provisions of the ICAO Convention on International Civil Aviation and Airworthiness Guidelines. The seizure of property is allowed in order to ensure the safety of physical evidence and compensation for damage caused by the crime." 
The court, which has appealed to international authorities to detain the aircraft, has cited five specific AN-124s. One has been based at Leipzig-Halle and, according to flight tracking information, appears to be involved in short flights around the airport; one arrived at Senai International in Malaysia last week; one arrived today in Ohio, at Rickenbacker Airport; one has been in Moscow since June 8; and the last has been in Perm, Russia, since November. 
In fact, of Volga-Dnepr's 12 AN-124s, four appear to be in Russia, four in Leipzig, one in Vatry and another in Houston. Only seven have flown this month. 
While the court has asked the international community to seize the aircraft, the request is not binding. 
According to one source, Russia's air force is also struggling to maintain its seven active AN-124s, and is thought to have an eye on Volga-Dnepr's aircraft to supply it with parts. This has not been confirmed. 
Volga-Dnepr has faced other legal challenges this year.
In March, its offices in Ulyanovsk were raided by the ministry of internal affairs over bribery concerns, according to Russian media. One source told The Loadstar there were "simultaneous investigations in VD's Ulyanovsk, Moscow and Sharjah offices".  
Volga-Dnepr Group is believed to have struggled with its AN-124 business since the break-up of its joint-venture with Antonov, following Russia's annexation of Crimea. It is thought that the AN-124 business has in the past helped subsidise other parts of the group, which also includes AirBridgeCargo and Cargologicair.
But with that business now competing with Antonov Airlines and suffering from some political, and now legal, setbacks, Volga-Dnepr Airlines' position looks increasingly fragile.