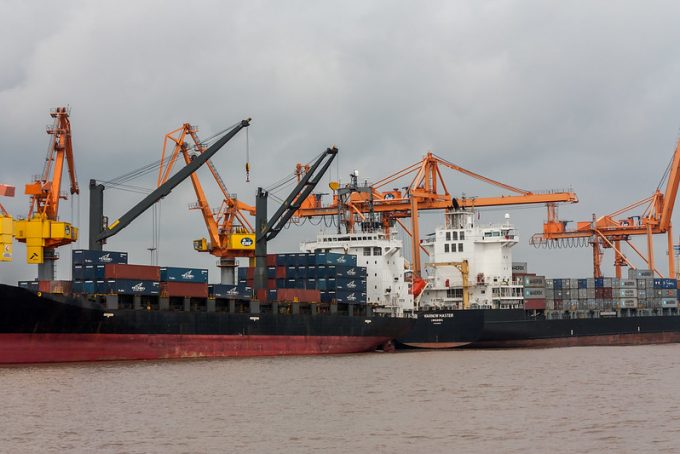 Vietnam has joined its neighbour, Thailand, in announcing plans to expand its container shipping fleet.
The Vietnam Logistics Business Association (VLBA) said last week that, over the next five years with a $1.5bn budget, it will build box ships, buy second-hand tonnage or lease vessels.
It expects them to be deployed on routes connecting Vietnam with China, South Korea, Japan, Malaysia, Singapore, India and the Persian Gulf.
Currently, there are ten Vietnamese companies active in container shipping, with a total fleet capacity of 39,519 teu.
The association pointed out that, while Vietnam handled 24 million teu of imports and exports last year, only 7% was carried by local liner operators, due to their limited capacity. The VLBA intends to work with private shipping companies and the government to raise funds to acquire ships.
It said Vietnamese shippers were also facing container shortages, but would procure boxes on hire-purchase or long-term leases to limit capital expenditure.
Until 2024, the association's vessel acquisitions will be in the 1,800-2,500 teu range, as the shallow draught of these ships enables them to dock at Hai Phong port. The association plans to purchase 14 ships in 2023 and another six in 2024, planning to deploy the vessels on the China-Japan route. From 2025 onwards, the VLBA will look to acquire 4,000-5,500 teu ships that can serve routes connecting East Asia with South-east Asia and destinations further afield.
Linerlytica analyst Tan Hua Joo told The Loadstar Vietnam's liner operators, led by Hai An Transport & Stevedoring, have been more aggressive in expanding their fleets. He said, "The Vietnamese container market is very fragmented and individual carriers are pursuing different growth strategies.
"The state owned carriers, including Vietnam Maritime Corporation (ex-Vinalines), have continued to underperform, have not been active in building up their capacity in recent years and have failed to capitalise on the booming container markets of the past two years."
Hai An has been the most active ship shopper among Vietnamese liner operators, buying two 1,700 teu vessels last year and ordering two opf 1,800 teu at China's Huanghai Shipbuilding in March for delivery in 2023.
Mr Tan added: "However, the Vietnam-flagged fleet remains very small and focused on the feeder sizes, and they have not developed any deepsea capabilities that could threaten the dominance of the foreign-flagged carriers in Vietnam."