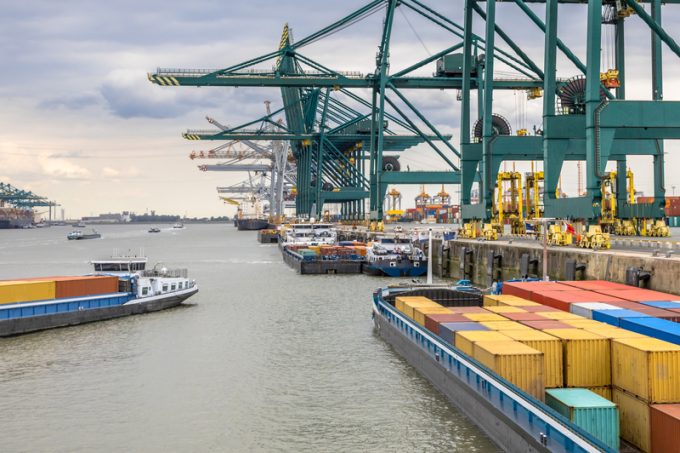 Barge owners are calling for port operators to adopt "synchro-modality" to address the congestion crisis plaguing Europe's box terminals.
Gunther Ginckels, inland consultant at SeasC4U, warned that pleas from Port of Antwerp CEO Jacques Vandermeiren for more container capacity would likely exacerbate the crisis.
He said what was needed was a "complete reimagining" of how supply chains operate.
"What is needed is all stakeholders sharing vital information with each other, so that goods can move faster, more efficiently and in synchro-modality," he told The Loadstar.
"Synchro-modality, in essence, sees terminal operators acting as the 'spider in the web' and, on the basis of information provided by stakeholders, offer a synchro-modal product which brings the box from seagoing vessel stowage to final destination.
"They determine the transport mode, which can be a combination of road, rail, and/or inland shipping, and the time the goods are expected at their destination."
Mr Ginckels also called for "concession coupling", based on a 50/20/30 rule, in which 50% of capacity moves by barge, 20% by rail and 30% by road. This would require prioritising quay capacity, ensuring frequent rail services and ample gate space for trucking.
He added that such a development was already on its way, with Maersk said to be building a system to fit his proposed model.
"Maersk will set up a platform for a single rate and, with a number of requirements such as transit time, will decide how to move containers, which will be done by combining transport modes," said Mr Ginckels.
"Expanding terminals is not the way forward, because you have to ask 'where and how' is there still enough surface area between the Dutch border and Antwerp to create space?
"They cannot even manage current operations and flows, and the bottlenecks are on the landside, so how in the heavens will they do better when building more docks and quays."