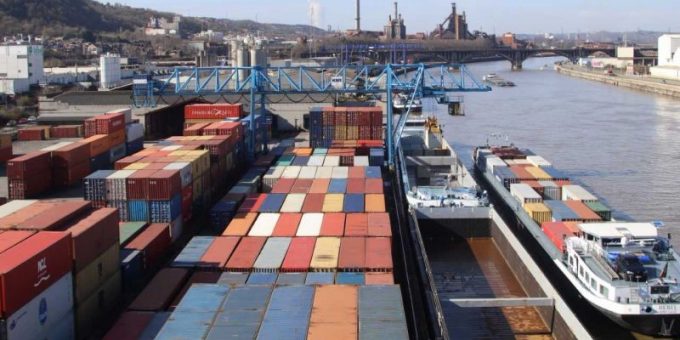 Congestion on Europe's inland waterways is at its lowest since 20 April, but two sunken vessels continue to cause delays at Liege, and now new storms are threatening the region.
Belgium's meteorological institute (IRM) has issued thunderstorm warnings for today, with the Walloon province under a yellow warning and the west of the country upgraded to the more serious orange warning.
The IRM said: "Cumulative amounts of rain could reach 10-30 litres per square metre in a short time, even intensifying to 40 litres per square metre or a little more over the west of the country."
Two weeks ago, storms producing two months' worth of rain in 48 hours across north Europe forced Liege to close its container terminal for several days, and having only just reopened, sources told The Loadstar the new storm warnings posed further problems for the Belgian gateway.
"On the larger rivers, the quantities [of rain] expected over large areas should not be sufficient to cause significant overflow," said one source.
"However, the transition to the early warning phase, that is localised overflows, cannot be completely excluded today. As the precise location, duration and intensity of the stormy showers cannot be predicted, vigilance is required throughout the country."
The source noted that the storms could cause local run-off, saturation of drainage systems, water accumulation and mudslides, worsened by the fallout of the storms of a fortnight ago.
The flash floods resulted in the sinking of two vessels near the Liege container terminal and while efforts to re-float them have begun, cargo-carrying barges have been forced to reduce speed near the site.
A spokesperson for the company involved in bringing the boats back up told The Loadstar: "We've been informed [river] currents will reduce to 0.35 kph tomorrow and we can then send divers down for a visual inspection of the two wrecks and the surroundings.
"We will also take the opportunity to assess other problems with floating vessels nearby."
Another source told The Loadstar that while the sunken vessels would only add "two hours" to barge journeys, damage to infrastructure along the River Maas was seeing journey times increase by 10-12 hours.
Dutch authorities also announced this morning they were extending their storm warnings into Tuesday after a dike in Reeuwijk broke this morning, although reports claimed the reason for the break were not yet known.