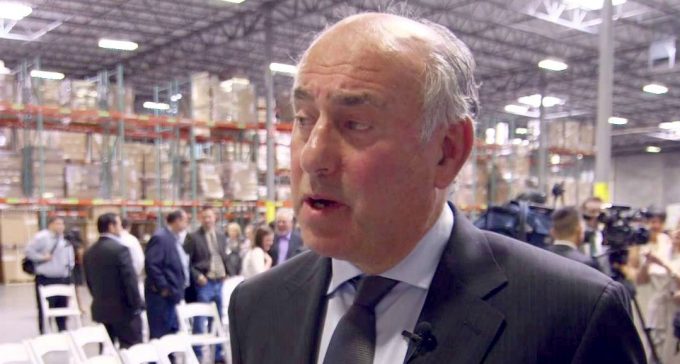 Following its formal complaint to the Federal Maritime Commission (FMC) last week, Pennsylvania home décor firm MCS Industries CEO Richard Master (above) has told The Loadstar why the company felt it had no choice, but to speak out.
Mr Master said he had been in contact with a number of larger and smaller shippers and there was concern for their businesses as well as anger at the failure of shipping lines to meet their contractual obligations.
"Some lines are more co-operative than others, but none has supplied us like we supply our customers," claimed Mr Master. "When we make a deal we stick to it."
According to MCS, the difficulties caused by poor service levels and high rates will "reverberate throughout the US economy", and inevitably have very serious economic consequences.
Mr Master said with more than 11m containers handled in US supply chains annually and the costs of imported boxes increasing from around $2,700/40ft from Asia to the west coast to $15,000-$20,000/40ft, it has left some companies with little choice but to complain.
MCS transports around 3,500 containers a year from suppliers in Asia, the contents on average valued at $20,000-$30,000, so current rates are "like a dagger to the heart" of small and medium-sized shippers, explained Mr Master.
It is not that the shippers do not understand that the pandemic has caused disruption, however. And Mr Master pointed out that contract negotiations took place earlier this year, normally in the first quarter, up to a year after the pandemic started, so the lines knew that the issues and disruption it caused had been "in play for some time".
"When we started negotiating the contracts, we accepted that prices would be 70-80% higher than last year, but we thought that was appropriate, it was excessive but it reflected the disruption and market conditions," he conceded. But, he said, once the contracts were signed, "we didn't get the containers [agreed to] and the prices spiralled up over a period".
He claimed this wasn't just price increases due to the pandemic, "they were baked into the negotiations," he said, which was "price gouging". And that is what prompted the complaint to the FMC.
He continued to allege that the lines were, in effect, profiteering, and asked: "With rates at such inflated levels what is the motivation for the lines to return to normal levels of operation?"
MCS's business from Asia is worth $120m, but the cost of transport increased by $30-40m overnight, which will be passed on to the consumer and will lead to inflation of 20%-40% in the sector MCS operates – inflation is created artificially by the shipping lines, Mr Master said.
In a letter to chairman of the FMC Daniel Maffei, Mr Master said he believed it was clear that government and the FMC were aware of the critical nature of the issue "and the havoc that it is wreaking on American businesses and consumers". He added: "Federal shipping and antitrust laws appear to provide federal regulators with the tools needed to investigate this outrageous conduct by ocean carriers."
He said rapid action was needed to mitigate the worst effects being felt "right now, on a daily basis, by American businesses and consumers".
In effect, Mr Master accuses the carriers of operating a cartel, allowing them to manipulate the market illegally.
"The formation of these cartels has allowed foreign shipping interests to co-ordinate pricing and business practices, and take advantage of economic conditions to charge extortionate prices to US customers," he alleged.
Mr Master would like to see reparations to shippers for their losses, and the lines forced to meet their contractual obligations. Furthermore, MCS would like the FMC to ensure that the lines address container shortages and the "dislocation" of containers, with not enough empties in Asia and too many in congested US ports.
Finally, the MCS CEO pointed to the "serious co-ordination issues in the operation of the US ports".
He said: "Truckers performing drayage services, delivering full containers to shippers and receivers, must be able to schedule normal appointments to avoid current untenable delays. Steamship lines currently levy penalties on the US shippers for delays which are beyond their control."
Moreover, truckers have been unable to secure appointments to return the empty boxes, which has resulted in more financial penalties.
"These penalties, which are ultimately borne by American consumers in the form of consumer price inflation, must stop," demanded Mr Master.
The detention and demurrage issues have been well documented, as they formed part of commissioner Rebecca Dye's Fact Finding 29 mission, as has the conduct of the carriers, though up to now the FMC has been unable to act because it had not received a complaint.
With the first grievance now documented, the FMC will analyse the MCS complaint – but Mr  Master added he believes many more will follow.