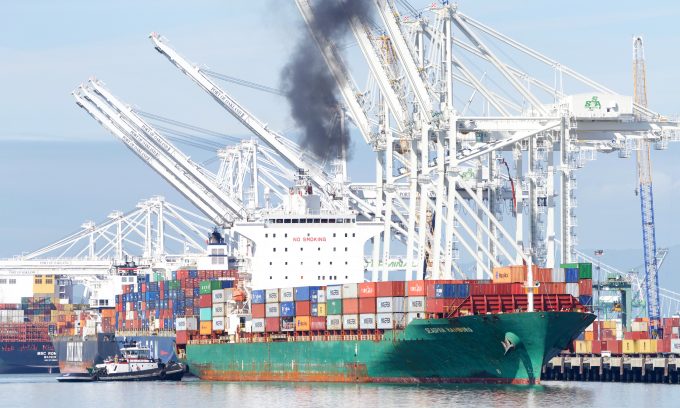 In a sign of the uncertainty posed by the fuel landscape and the costs, ship classification society DNV's latest maritime forecast features 24 different scenarios for ship bunkers, entailing anything up to $28bn in annual investment between now and 2050.
Carbon-free fuels will push up the price of transporting freight, costs that will be passed on to the carriers' customers.
"The largest investments come in scenarios with high uptake of ammonia or methanol," said DNV maritime forecast consultant Eirik Ovrum, who added that the full-decarbonisation-by-2050 models would effectively double the costs of the current International Maritime Organization 2050 target: a 50% reduction of 2008 carbon levels.
Knut Orbeck-Nilssen, maritime president of the Norwegian DNV, said: "We cannot sit around and wait for a silver bullet. Vessels will have to be renewed… the older vessels get, the more likely they are to be exposed to safety concerns. In order to have safe decarbonisation, we need to make sure that seafarers have the competence, experience and training to deal with many different fuel options."
Shipping "needs a big upskilling," he said, "…and that cannot wait".
Biofuels, "if there is sufficient sustainable biomass", to act as a feedstock would be the preferred solution, compared with more exotic e-fuels like ammonia and methanol, Mr Ovrum added. It seems DNV considers an e-fuel future less likely, as ammonia and methanol "will have to cost significantly less than carbon-neutral marine gas oil to compete".
It is possible to generate carbon-neutral versions of conventional fuel oils using a supply of captured carbon, or biogenic sources of carbon emissions like Maersk is proposing for its e-methanol-powered ships.
DNV predicts that widespread electrification will diminish the global energy demand, overall. CEO Remy Eriksen explained that electrified propulsion methods were "close to four times more efficient than a combustion engine".
Mr Eriksen also predicted that the war in Ukraine would have the net result of speeding up the transition to renewable energy.
"Electrification will grow from around 18% today to 38% to 40%. We are moving toward a world which spends less of its GDP on energy," he said, adding, in reference to Russia, "and is less vulnerable to supply shocks".