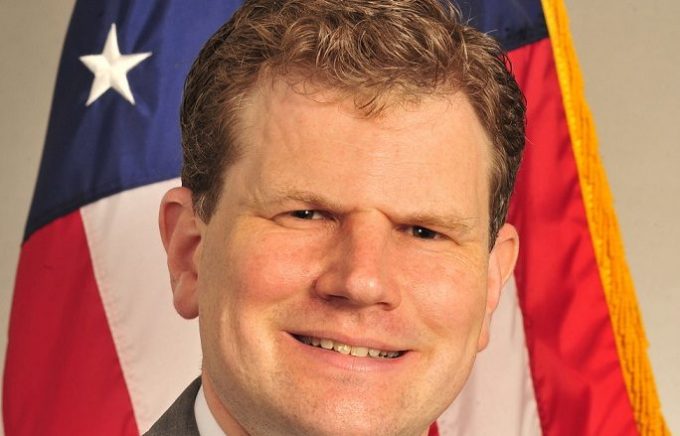 US President Joe Biden will today take aim at shipping's exemption from competition law, saying his administration will target regulations that allow carriers to collaborate on vessel sharing and other elements in the supply chain.
In his 'state of the union' address, broadly welcomed by shippers but condemned by carrier representatives at this week's TPM conference in Long Beach, he will note that 80% of the world's container shipping capacity is controlled by just three alliances on eight east-west trades.
The president will announce steps to lower consumer prices and level the playing field for American businesses in ocean shipping, including launching a new Federal Maritime Commission and Department of Justice initiative to promote competition in the ocean freight transport system.
However, senior figures in the industry have criticised Mr Biden, claiming the shipping lines have only made significant profits over the past two years, while others fear the break-up of the antitrust immunity system may come back to haunt the sector.
Daniel Maffei (above), chair of the Federal Maritime Commission (FMC) and a Democratic appointee, told the audience at TPM yesterday: "I would not undo alliances; that would lead to more consolidation" and, corrupting a Winston Churchill quote, he added: "Alliances are the worst things you can imagine, except all the alternatives."
Mr Maffei later told The Loadstar that, while the conference system had drawbacks, it did not allow the shipping lines to agree on price. If the alliances were banned, he argued, there would be more mergers, potential bankruptcies of shipping lines and, ultimately, larger entities that would eventually mean a loss of competition.
In his view, while the alliance system is not ideal for consumers, it has its advantages and disadvantages.
"If we have alliances, there are three entities that can negotiate space sharing and shippers can contract several different carriers, but if there are no alliances, mergers could happen – there is no upside to ending the alliance system if mergers happen."
According to Mr Maffei, if carriers were to consolidate they would be free to fix rates in a way they cannot now.
"We want more leverage for the FMC; we want to be able to go to the alliances and say 'we're concerned', or 'we're not exporting enough'. There's too much of the bad side and not enough of the good side."
Meanwhile, the carriers, via the World Shipping Council (WSC), were also critical of the president's address, launching a broadside  24 hours ahead of the  speech, saying: "It is unfortunate that the president is demonising ocean carriers, the industry that is the backbone of the US and global economy and that has been working around the clock through the pandemic to move more cargo than at any time in history."
In the shipping lines' view, any allegation "that the container shipping industry is highly concentrated and uncompetitive is factually incorrect".
John Butler, WSC president and CEO, said: "Ocean carriers are actively competing in a global marketplace and that includes on the routes most relevant for US trade, while concentration levels in many other US industries are markedly higher than those in container shipping."
He added that the increase in the number of lines on the transpacific trades was "a clear sign of a competitive market responding to increased demand', adding: "Competition increased in 2021, with more ships operated by a larger pool of carriers serving the transpacific trade."
However, those views are not shared by shippers who contend that antitrust immunity for shipping lines does not "serve the public well".
According to Lori Fellmer, an importer at BassTech International and a prominent member of the National Industrial Transportation League, there is no clear reasoning behind the decision to grant antitrust immunity to the lines.
"We don't have visibility of the actual alliance agreements," she said. "The system needs some attention."
And she asked: "Why do [the lines] have this, what's the purpose? It can't just be for vessel-sharing agreements, because they can have that without anti-trust immunity."