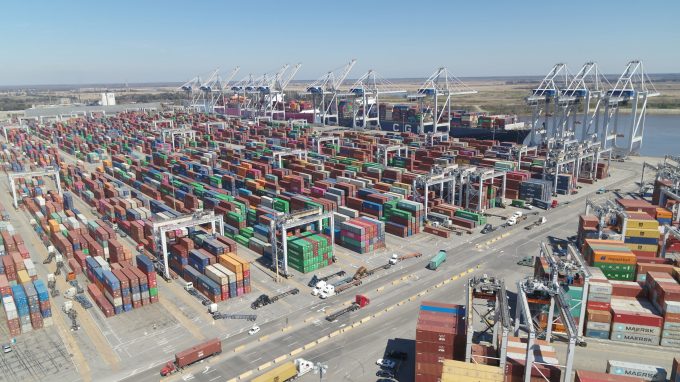 Having grappled with congestion at the port complex of Los Angeles and Long Beach, the problems at New York and New Jersey present a sense of déjà vu, to Paul Brashier, VP of drayage and intermodal, at ITS Logistics.
Port congestion has shifted from the west coast to the east – last week, there were 130 containerships waiting for berth space at US ports, but only a quarter of those were queueing on the west coast.
As shippers shifted Asian imports from California, anticipating serious delays, possibly even paralysis from a labour conflict, the number of ships off LA/LB was in single digits, whereas the number piling up near gateways on the east coast and in the Gulf of Mexico was soaring.
Savannah had the longest line-up, with 41 vessels awaiting berth space at the port.
"Savannah and Houston have picked up a lot of market share," said Mr Brashier, adding that he expects the elevated traffic levels there to be "somewhat permanent".
The situation has been fluid on the east coast; sometimes Charleston was struggling more to cope with imports, sometimes it was Savannah. For ITS, which provides drayage in 39 markets, including rail ramps, this has resulted in a flux of staff and equipment.
When the problems were more pronounced in Charleston, it got some of its Savannah-based drivers to 'deadhead' up there and pick up containers; when Savannah became problematic, it had to pivot drivers and equipment from Charleston to Georgia.
This need for flexibility has become a permanent element for the drayage provider.
"There's been a paradigm shift with beneficial cargo owners," Mr Brashier said. "Many have abandoned their strategy of using one gateway and are now using different ports, or at least different terminals."
At the moment, US drayage operators are facing the biggest challenges at the port of New York and New Jersey.
"That's been a rough spot since the beginning of the year. We're seeing there now what we saw in LA nine months ago," said Mr Brashier.
Drayage firms serving the port complex have been among the most vocal in calling for government intervention to address some of the problems with port congestion.
Mr Brashier said this issue first reared its head in 2018 on the west coast, when import volumes from China went through the roof as importers strove to beat the tariff deadline of the administration at the time. The pandemic added the problems of empty containers and lack of equipment, especially chassis.
"At New York and New Jersey, the biggest problem is empties and the availability to terminate empties," Mr Brashier said. And drayage operators faced additional headwinds with dual transactions, given lengthy delays that cause them to miss appointments.
According to Pool of Pools data, average chassis time at a local warehouse or a rail yard near LA/LB stood at 9.8 days in late August. Dwell times of three days are standard to maintain normal flows.
The experience of the congestion in 2018 convinced ITS it had to re-design its supply chains and it started putting up container yards to increase storage capacity. It also bifurcated its driver pools into those that serve the ports and those that perform deliveries and pick-ups inland.
These preparations enabled ITS to cope better with the insufficient flow of shipment data from container lines and terminals, a sore point with many drayage operators and importers.
"If you plan ahead and have relationships with the terminals, you can navigate," he said, adding that ITS staff were in daily contact with the ocean carriers too. In addition, the company uses multiple data sources and leverages predictive analytics to obtain better visibility on shipments.
The ports of LA and LB have championed 24/7 terminal operations to tackle congestion, but Mr Brashier is not convinced this is the way to go. He said while there may have been slight improvements, many problems remained; above all, lack of equipment at the terminals to handle the volume of boxes.
"You have 24-hour access, but how many other restrictions are there? Is labour in place? What are the pain points? Equipment is always your pain point," he explained.
He sees more benefit in closer collaboration with customers and supply chain partners. To cope with anticipated volumes, significant investments have to be made, he said. The pandemic had fostered a greater sense of collaboration and communication and he hopes this will not disappear when congestion dies down.
At the moment there is little danger of that. A large number of boxes are currently stuck at the ports in southern California. When those start rolling inland, the US rail system will be struggling to cope. That should last through the fourth quarter, possibly into next year, said Mr Brashier.