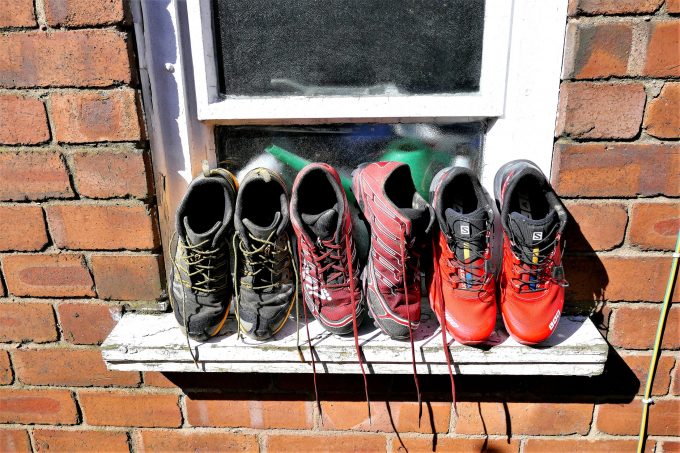 Shipping can decarbonise quicker for less than other industries, according to reports published today by the International Transport Forum (ITF) of the OECD, and Transport & Environment (T&E).
Transport & Environment (T&E) today said the results of passing on the cost of clean shipping to the end customer would be 'negligible'.
In the past, the cost of transport for a pair of the ubiquitous trainers was put at one cent, today T&E ague that the decarbonisation will increase that by just seven cents.
T&E says cargo costs will be greater on decarbonised vessels and the increases are laughable in context. For example, a vessel burning e-methanol added €0.03 ($0.03) to the consumer cost of a television, or €0.27 (28¢) to the price of a refrigerator. To put this into perspective, according to the EU Consumer Price Index (cpi), the price of these goods has risen 9.8% since 2019.
Goodshipping negotiates the supply of biofuel on behalf of customers such as BMW, providing drop-in biofuel to replace fossil fuels on a given ship, and offset that shipper's contribution to CO2 emissions. Isabel Welten, CCO for GoodNRG Group, which encompasses Goodfuels and Goodshipping, told The Loadstar T&E's 'biodiesel' numbers – in which extra transport costs were €4.60 per teu – were likely an overestimate, and the costs may be less, even, than that.
"As a consumer you won't even notice," she said.
"In the sense of biofuels in shipping, it is still a limited market, and you can only benefit from economies of scale if you have volumes. We are comparing an immature market – the biofuel market – with fossil fuel markets that have had logistics and supply chains in place for decades. If you get to a more mature biofuel market, you can unlock more sustainable feedstocks, but to do so, you need more demand first."
Ms Welten believes there is sufficient sustainable biomass available to cover transport needs, across all modes.
"That is correct… it matches easily," she said. "We just need to make sure we get these sustainable feedstocks in the right place.
"You might also wonder whether these costs should be passed down to the consumer, given they are so small. You could also say the company should absorb it in their margins," she added.
Shipping has, in fact, demonstrated a willingness to absorb these costs on its own. Even so, last week, following ICS's closed-door centenary summit in London, its secretary general, Guy Platten, lamented the "kick[ing] into touch" of ICS's suggested a market-based measure for decarbonisation: a $2 levy on bunker fuel to fund an International Maritime Research and Development Board.
Attendee support for a market-based measure was "strong", he told The Loadstar. "That is, how we set up some sort of cross-skilled body with energy providers, to see how we manage this energy transition."
He asked: "If you have a situation where the industry is ahead of its regulator, how does that happen? Usually… the industry is trying to stop the regulator declaring all sorts of things, but here we are with shipowners saying 'I'm for more regulation' – I can't imagine many business leaders doing that."
Shippers disagree with the premise of such a charge. They argue that shipping is attempting to secure the up-front costs of decarbonisation through such a mechanism, whereas other industries invest in technology and then make a return on the increase in prices.
Moreover, the ITF study, How Digitally-driven Operational Improvements Can Reduce Global Freight Emissions, predicts that 'smart-steaming' would offer the greatest CO2 reduction of any digitalisation measure adopted by any mode.
Digitalisation would cut carrier costs and enable the lines to continue to invest in their businesses.
Comparing ITF's 'baseline' business-as-usual 2050 scenario with a fully digitalised one, 'Digital Transformation 2050,' shipping achieved a 24% CO2 emissions reduction and an 8% reduction in carbon emissions from transport as a whole.
'Smart-steaming' refers to the principle of fully digitalised ports and vessels negotiating arrival times dynamically, allowing these ships to either speed up or slow down depending on when a berth will be available.
Smart-steaming had the most pronounced effect of any digitalisation measure studied, beating 'Improved truck utilisation' (filling trucks with cargo on the return leg of their journeys). The latter came to only a 14% reduction in CO2 emissions from trucking, and a 7% reduction for transport as a whole.
'Optimising maritime utilisation', gave another pronounced benefit: this time by reducing shipping's CO2 emissions by 17%, with an effect of -5% for transport as a whole. Together with smart-steaming, greater benefit was available to maritime than to any other mode.
Speaking on smart-steaming, ITF study Lead Modeller and co-author Luis Martinez told The Loadstar: "Smart-steaming" explores the conversion of waiting time at ports into reducing speeds, preserving travel times but saving energy and reducing emissions.
"This will be possible with digital processes that lead to optimal operations. The potential savings, especially for long trips, can be very significant."