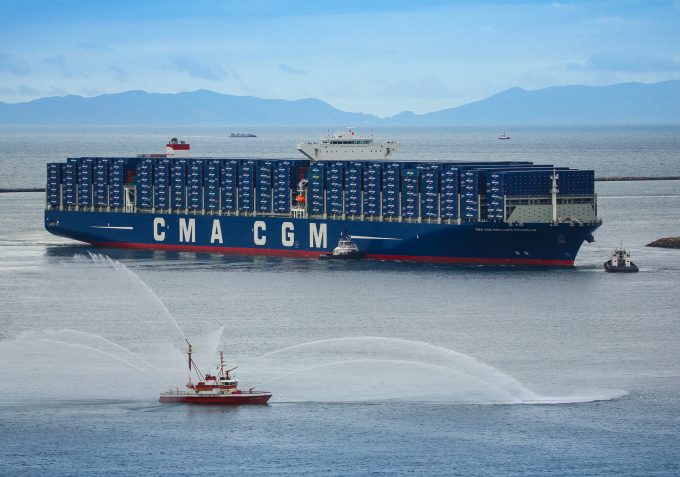 CMA CGM joined the growing ranks of ocean carriers that may have sailed into the red in the final quarter of 2015, but thanks to a good start it managed to record a net profit of $567m for the full year.
This compares with $584m achieved in 2014.
Revenue declined by 6.4% to $15.7bn, despite carryings up 6.3% to 13m teu, while its average freight rate for the year slumped by 11.9% to $1,206 per teu.
Of the 771,000 teu of extra containers loaded onto its ships, 535,000 teu came from its US services, which mitigated a 147,000 teu reduction in Asia-Europe liftings. Its carryings were also boosted by a 266,000 teu increase from its subsidiaries – mostly relating to its acquisition of OPDR in July 2015.
"Our operating performance once again illustrates the strength of our business model and our capacity to adapt," said CMA CGM vice-chairman Rodolphe Saade.
This constant review of strategy was in evidence only last week when the French carrier announced it would redeploy six 18,000 teu flagships to the transpacific trade from its Asia-North Europe FAL 1 service, where freight rates have come under intense pressure due to a combination of weak demand and an oversupply of capacity.
Mr Saade conceded that the beginning of this year had been "tough" and "marked by freight rates under pressure".
"We are therefore strengthening our continuous efforts to adapt and optimise our maritime services as well as our cost reduction programme," he said.
CMA CGM's fleet capacity swelled by 14.8% year-on-year to 1.9m teu, which cemented its third-ranked carrier position behind Maersk Line and MSC, ahead of the newly-merged Chinese carriers at 1.56m teu.
It has an orderbook of 24 vessels, totalling 261,000 teu, including three 20,600 teu and six 14,000 teu ultra-large ships, which still require financing.
The cost of bunkers and consumables fell by 39% on 2014, lopping a massive $1.37bn off of expenditure, as the average price the carrier paid for fuel tumbled to $330 per tonne from $570 the year before.
Chartering expenses and slot purchases increased by 15%, compared with 2014, or $269m to $2.1bn, as CMA CGM's chartered-in fleet expanded by 16% to 1.29m teu .
In December, CMA CGM had its $2.4bn offer for NOL accepted and, subject to clearance by the regulatory authorities in China, the EU and the US, the company said it was still "on target" to complete the acquisition by the middle of this year.
According to Alphaliner data, NOL's container arm, APL, operates a fleet of 85 ships – 53 of which are owned – for a capacity of 531,696 teu.
To finance the acquisition CMA CGM has agreed a $1.65bn loan from a syndicate of international banks and has pledged $750m of its own cash.