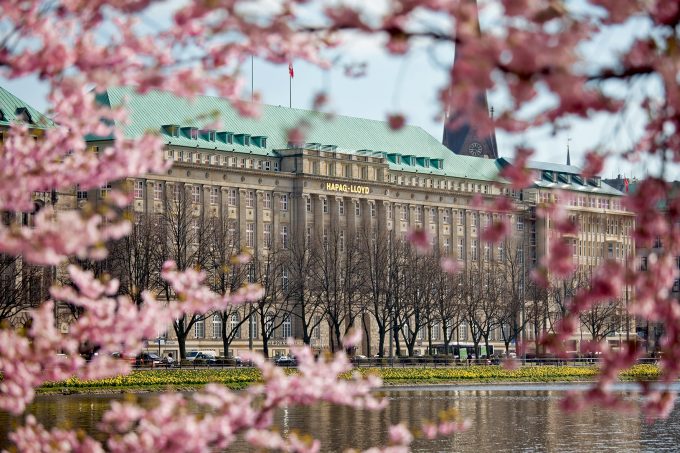 The merger between Hapag-Lloyd and United Arab Shipping Company took another step towards completion this morning with a business combination agreement (BCA) to create the world's fifth-largest box shipping line.
The proposed deal now goes before competition authorities for clearance and, if given the green light, is expected to complete by the end of this year.
However, the announcement was accompanied by a profit warning for investors.
The agreement was signed by Hapag-Lloyd shareholders CSAV, Hamburg municipality HGV and Kuehne Maritime, and UASC shareholders Qatar Holding and Public Investment Fund of Saudi Arabia.
The two UASC shareholders will have a 14% and 10% stake, respectively, in Hapag-Lloyd, less than the 28% the two had originally been lined up to acquire.
In addition, in a shareholders support agreement that accompanied the BCA, they have agreed to "backstop a cash capital increase in the amount of $400m planned by way of a rights issue within six months after the closing of the transaction".
The merged entity will be headquartered in Hamburg, and will have a fleet of 237 container vessels with a combined capacity of 1.6m teu. Based on current business, it would transport round 10m teu a year with annual revenues of $12bn.
Although Hapag-Lloyd is a founding member of THE Alliance, which will take shape in April, it will continue to operate as part of the G6, while UASC remains part of the O3 Alliance until then.
Hapag-Lloyd chief executive Rolf Habben said: "This strategic merger makes a lot of sense for both carriers – as we are able to combine UASC's emerging global presence and young and highly efficient fleet with Hapag-Lloyd's broad, diversified market coverage and strong customer base. Furthermore, it will give the new Hapag-Lloyd access to ultra large container vessels."
While the largest vessels in Hapag-Lloyd's fleet are its 13,200 teu Hamburg Express class, the merger will bring in UASC's six 18,800 teu vessels, and 11 15,000 teu vessels. The average ship size will increase to 6,600 teu, with an average age of 6.6 years.
Michael Behrendt, chairman of Haag-Lloyd, added: "Hapag-Lloyd and UASC now take the next step to further consolidate and shape the liner shipping industry. The new transaction is strengthening not only our market position, but also our service portfolio.
"The merger will create annual net synergies of at least $400m and save a significant amount of capital expenditure for the company."
However, Hapag-Lloyd warned investors today that its 2016 full-year financial performance was likely to be worse than last year, when it posted a $126m profit, mostly on the back of a strong first half.
"The revised expectation of the executive board is a clearly decreasing EBITDA and a clearly decreasing EBIT compared with the previous year," said the line, blaming the performance primarily on weak freight rates. In the second quarter, Hapag-Lloyd's average freight rate was $1,019 per teu, $245 per teu down on the $1,264 per teu in the same period of 2015.
It added: "The recovery at the beginning of July does not seem sufficient and sustainable enough. Additionally, bunker prices have increased throughout the second quarter of 2016.
"After the potential business combination with United Arab Shipping Company, transaction-related one-off costs will also impact the results in 2016.