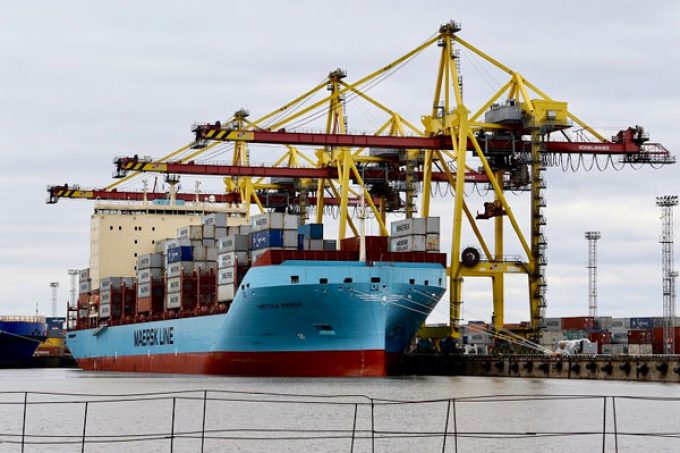 Today's Shanghai Containerized Freight Index (SCFI) shows a marginal decline in spot rates to North Europe, but there was a jump in rates for the North American market, which is good news for ocean carriers just weeks before new annual transpacific contract negotiations commence.
The SCFI recorded a 0.9% fall in spot rates from Asia to North Europe to $970 per teu, while rates to Mediterranean ports were virtually flat at $978 per teu.
In the same week 12 months ago, spot rates on the two European lanes stood at $891 and $761 per teu respectively, for North Europe and the Mediterranean, suggesting there is a more robust market this year prior to the Chinese New Year, particularly for the Mediterranean.
However, the backhaul trade from North Europe to Asia continues to be depressed as a consequence of China's restrictions on the import of waste paper and plastics.
Indeed, according to the latest reading from Drewry's World Container Index (WCI), spot rates from Rotterdam to Shanghai are at a lowly $576 per 40ft, 34% below the level of a year ago.
George Griffiths, editor global container freight market at S&P Global Platts, said "concerns remain over Brexit" and with the 29 March deadline for leaving the European Union creeping closer, UK retailers were ensuring they had ample stock to overcome a possible period of disruption to supply chains.
"This has led to some stockpiling of goods by importers, potentially strengthening this route, and extending the Asia-UK's premium over the Asia to North Continent lane," said Mr Griffiths.
Moreover, it remains to be seen what impact the Ocean Alliance's announcement this week of a revamp of its network from April, crucially including the addition of a seventh loop from Asia to North Europe, will have on forward bookings and freight rates.
Not only is the Ocean Alliance the largest of the three east-west  vessel-sharing coalitions, but it is also arguably the strongest in terms of its partnership, given that the press release on the signing off of the new network in Hainan, China, yesterday was followed by confirmation that the cooperation had been extended until 2027.
Meanwhile, from Asia to the US east coast, the SCFI recorded a 4.8% uplift in spot rates to $3,187 per 40ft and for the US west coast an 11.6% surge to take rates on the route to $3,187 per 40ft.
"With Chinese New Year rapidly approaching, the clock is ticking on exports from China on both transpacific routes, lending some support to the all-inclusive rates," said Mr Griffiths, "this comes alongside utilisation numbers in the high 90% regions."
However, the outlook for the next few weeks looks less promising, with a sharp drop in rates expected in February as demand softens over the holiday period.
Despite the probable seasonal fall in rates the bottom line of carriers in Q1 will be boosted by the collapse of oil prices since October which has resulted in their bunker costs falling by over one third to around $350 per ton for heavy fuel oil.