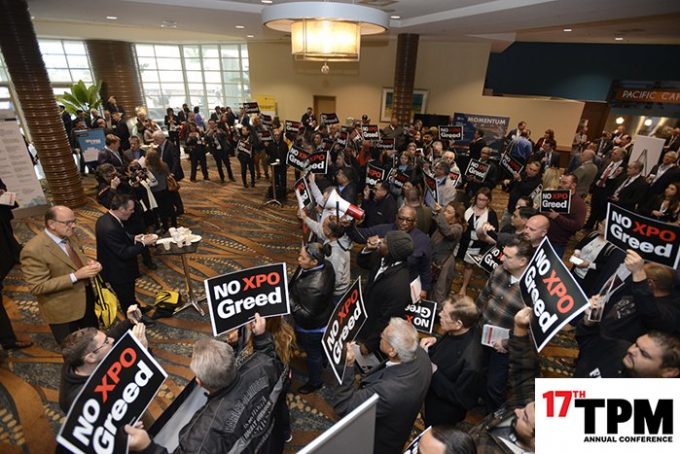 Events at the Transpacific Maritime conference in Long Beach almost overtook speakers and delegates on its first morning, when a group of protestors from the Teamsters Union stormed through the exhibition, blowing horns in protest at XPO Logistics chief Bradly Jacobs, the event's keynote speaker.
Around 40 protestors entered the Long Beach Convention Centre, where this year's TPM, organised by the Journal of Commerce, was holding a breakfast meeting for delegates.
They shouted slogans about XPO's reported refusal to recognise the union.
The Loadstar's interview with Mr Jacobs, due to take place at the company's exhibition stand, was moved in case of further action.
Mr Jacobs told The Loadstar: "I don't believe in The Teamsters. That's not about unions – we work with unions across Europe and I never have these sort of problems there. There are work councils in Europe and the whole interaction is done respectfully and on the basis of cooperation.
"The Teamsters are completely out of control. I don't see the value they bring to members. But I can see their problems – a few years ago they had 2.1 million members. Now they have 1.3m."
He added: "99% of our employees [in the US] are union-free and they will remain that way."
One of the key themes of Mr Jacobs' speech was how technological developments are transforming the logistics business, including the development of driverless trucks, which he said was now a feature of every vehicle manufacturer's future plans.
"We have just finished a RFP on our truck procurement programme, and every single manufacturer included a section on autonomous vehicles in their presentations. There is no doubt in my mind that they are coming to our roads."
Mr Jacobs said it would happen in stages.
"There will some form of autonomous truck on the highways in three years; the second phase of deployment will take place after seven years; and within ten years, every single truck on the roads will be autonomous.
"What needs to be developed now is the regulatory environment to cover this," he added.
He claimed the benefits of autonomous trucks were obvious – but so were the disadvantages.
"Computers don't drive while drunk, they don't suffer from sleep apnoea and fall asleep at the wheel. But there are problems, of course: they can be hacked and they can go on the blink, so you need very tight security.
"There needs to be the regulatory environment in place to make sure the technology rolls out safely, and that is still some time away. But it is inevitable.
"I also don't think autonomous vehicles will have Teamsters to represent them," he added.