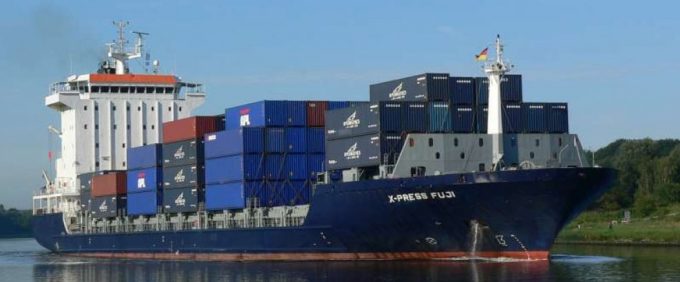 Feeder operators caught out by Hanjin Shipping's bankruptcy have been forced to re-jig their service schedules and form new alliances.
X-Press Feeders chief executive Tristan Howitt told The Loadstar that, as a major global customer, Hanjin's exit had caused a series of problems across the line's network.
"In some areas we had services designed around Hanjin requirements, but the nature of feedering is that we are very flexible and within a couple of weeks can adapt to the volume changes and move on," Mr Howitt said.
"Like many partners and suppliers, we were surprised by the sudden collapse, as we had been assured by the management and their backers that all would be well.
"So while we were able to manage the decline sensibly, we were inevitably left with debts," he added.
X-Press Feeders is the world's largest independent common carrier, with a fleet of 100 chartered vessels that carried over 5.3m teu in 2015. Like others in the shipping community, Mr Howitt expressed his sadness at the plight of Hanjin's employees.
"The saddest part is all the friends we have built up in Hanjin over the years who are left stranded by indecision and prevarication at the top, having worked very hard to the end to try and keep their part of the business running."
In Korea, local feeder operators have been quick to react to the schedule gaps left by Hanjin by forming a new intra-Asia alliance.
The Mini Alliance comprises Korea Marine Transport, Sinokor Merchant Marine, Heung-A Shipping and Korea's second biggest carrier, Hyundai Merchant Marine (HMM) in a vessel-sharing agreement on four South-east Asian routes.
"The decision was made in order to minimise losses of shippers on the South-east Asian route due to the Hanjin Shipping fallout and to compete with global shipping lines," an HMM official told The Korea Herald.
While HMM itself escaped bankruptcy earlier this year and announced plans to join Maersk Line and MSC in the 2M alliance in April 2017, it may find shippers less willing to commit come next year's contract season.
Bjorn Vang Jensen, vice-president global logistics at home appliance giant Electrolux, commented on LinkedIn.com: "Some shippers might now be using Hyundai because beggars can't be choosers. But the BCOs [beneficial cargo owners] I've spoken [to] say it will be a cold day in hell before they'll consider HMM for the next contract season – given that they're run by the same bank."
It had been a tumultuous year for global container shipping, even before Hanjin filed for bankruptcy. Mr Howitt said 2016 had involved more network changes than ever before due to shifting volumes across most trades and changes in carriers' preferred transhipment terminals.
"We do not see this constant change slowing down either, as carriers reposition their networks to be ready for the new alliances starting in April 2017, and of course as they adapt to the changes caused by Hanjin's sudden exit.
"Volumes in most markets are flat, and we do not expect them to rise any time soon. We are also seeing that volume increases are often on the non-dominant leg which of course is good as it is extra revenue, although they are rarely as good rates as on the dominant leg, and do not soak up ships," he added.