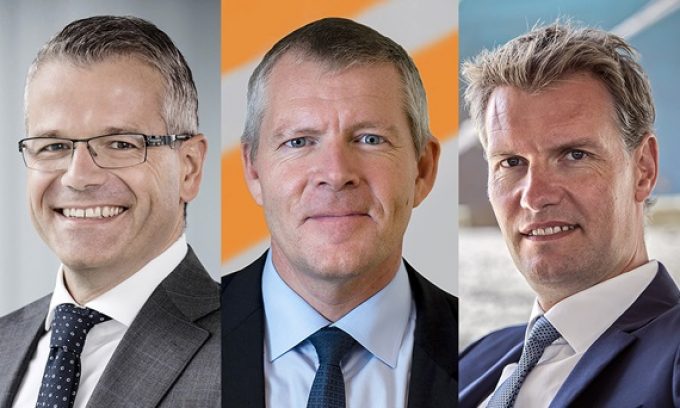 The further refocusing of Maersk Group on its container activities was in evidence today as it announced that Vincent Clerc, Morten Engelstoft and Soren Toft (pictured from left to right, above) had been promoted to its group executive board.
Chief executive Soren Skou said the expanded executive board would help the carrier accelerate its plans towards delivering "seamless end-to-end" services.
"We have made good progress on the separation of the oil and oil related businesses as well as the integration of container shipping, ports and logistics," said Mr Skou.
"Vincent, Morten and Søren have all demonstrated strong leadership and customer focus as well as delivered solid results over many years."
Chairman Jim Hagemann Snabe said he was "very pleased" with the work of the executive board, adding the expansion would "further strengthen the pace" of change.
They will join Mr Skou, his deputy Claus Hemmingsen and chief finance, strategy and transformation officer Jakob Stausholm on the board.
All three have more than 20 years' experience with the carrier, with Mr Clerc – appointed chief commercial officer in 2017 – the most recent appointee.
Mr Engelstoft joined the company in 1986 and over the course of his 31-year tenure held numerous roles across the different divisions before taking over as chief executive of APM Terminals last year.
As chief executive, he is heading the strategy towards increased operational "excellence and improved customer service".
2014 saw Mr Toft replace Mr Engelstoft as Maerk Line chief operating officer, a role that has seen him heavily involved in the Hamburg Sud acquisition and integration, expected to close this quarter.