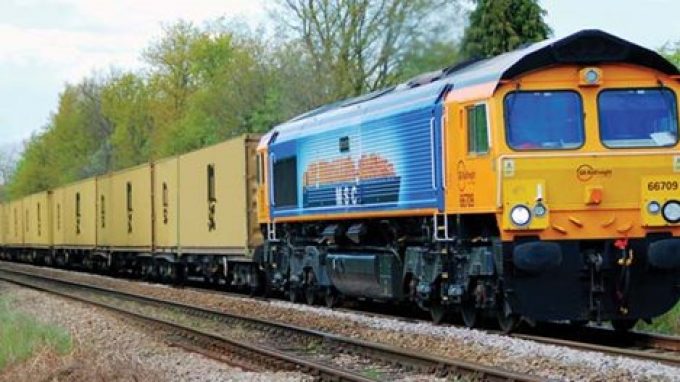 Changes in energy consumption masked the true state of UK rail freight in 2016-2017, with domestic intermodal and construction shipments taking centre stage as coal declines.
The Office of Rail and Road (ORR) reported the amount intermodal shipments moved by rail was up 6% on 2015-2016, with more than 6.8bn net tonne km covered.
According to the report, the sector's growth was primarily down to an increase in consumer-focused industries, notably retail.
And with a 39% share of all freight moved by rail over the 12 months to April, it recorded its highest share since 1998-1999 – and the highest for any sector since 2006-2007.
Executive director of Rail Freight Group Maggie Simpson said: "Many commentators predicted the death of rail freight with the end of coal, but these results show it is able to adapt and grow in other markets.
"The investment and efforts of train operators and their customers has delivered record-breaking results in construction and intermodal traffic, which we hope to see continue in the year ahead."
This upward trend appears to have carried through into calendar year 2017, with domestic intermodal freight moving up 9% year-on-year to 1.7bn net tonne km.
Together with construction, it made up 60% of all fourth-quarter movements – and at 1.7bn net tonne km, it represented a record quarterly high for any sector since 1998-1999.
Container line MSC announced last Friday it had extended a contract with GB Railfreight for the provision of rail services from the port of Felixstowe. It will keep the two companies partnered until 31 January 2020, with MSC now the only shipping line operating its own trains from Felixstowe.
Managing director of MSC UK Dan Everitt said rail was integral to the carrier's supply chain, enabling it to not only get containers closer to end customers, but also reducing CO2 emissions.
"Our decision to extend the contract for an additional three years is testament to a long-standing successful partnership that allows us to deliver a reliable, seamless rail service," said Mr Everett.
The Campaign for Better Transport said the results of construction and intermodal sectors demonstrated the potential and demand for rail freight services.
Freight on Rail manager for the campaign Philippa Edmunds said the past 12 months had been a period of transition for the industry as it adjusts to the deep decline in coal traffic.
"Rail freight is the safer, cleaner way to transport freight which reduces road congestion and improves productivity; furthermore, it can help the government meet its challenging targets to reduce air pollution as it produces 90% less PM10 particulates and up to 15 times less nitrogen dioxide emissions than HGVs for the equivalent journey," said Ms Edmunds.
"Given these socio-economic benefits, the government must set affordable charges in its current ORR review and continue to upgrade the rail freight network to cater for the suppressed demand for consumer and bulk services."
Ms Simpson said UK rail freight is being driven by a buoyant construction sector, with growth supported by investment from freight customers and operators in new high-volume equipment, longer trains and additional services.
Last week, GB Railfreight announced a three-year contract to manage the movements and preparation of all trains running in and out of the DP World London Gateway Port, taking over the operation from DB Cargo.
GB Railfreight managing director John Smith said: "This is a fantastic opportunity to develop our services in London and ensure that the economy continues to function effectively.
"Additionally, that [will help] efforts to lower air pollution through the reduction of lorries on the capital's roads are successful."
Despite the surge in intermodal and construction shipments, overall UK rail freight volumes fell to their lowest levels since the last century, down 3% to 17.2bn net tonne km in 2016-2017. This was primarily the result of a 39% downturn in coal shipments following the government's decision to phase out coal-fired power stations to meet new emissions targets by 2025.
International shipments also experienced a 9% drop, albeit from a relatively innocuous position, with the sector handling just 0.4bn net tonne km and making up just 3% of rail freight traffic. Overall freight lifted, as opposed to freight moved, in 12 months to April dropped 8%, down to 79.4m tonnes – its lowest level in more than three decades.
DB Cargo remained the UK's largest operator, hauling 3.84m freight train km in the quarter, with Freightliner next with 2.16m freight train km and GB Railfreight third with 1.38m freight train km.