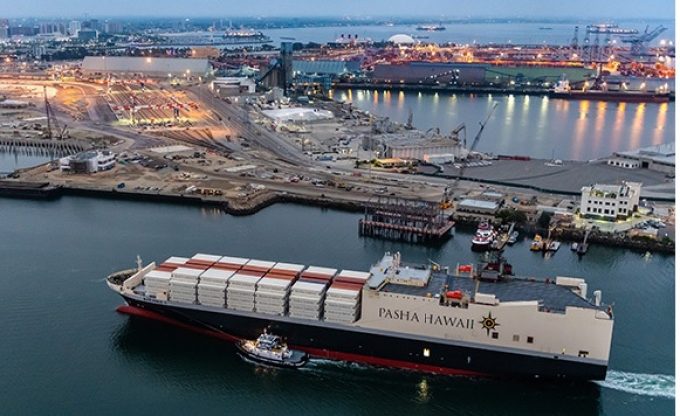 Ad-hoc carriers prepared to pay colossal daily rates for three-month hire of panamax containerships have disrupted the charter market, obliging liner companies to raid services for tonnage to start new loops.
The workhorse 4,000-5,000 teu ships – destined for the scrapyards just a few years ago – have a new lease of life, due to a dearth of open tonnage and a huge spike in global freight rates that reset the economy-of-scale ship selection criteria across tradelanes.
US niche logistics operator Pasha Hawaii continues to push the envelope with its latest three-month charter of the 4,308 teu Ionikos (ex-CMA CGM Jasper), fixed at a massive new record of $230,000 a day.
Pasha Hawaii has previously been linked to several other record-breaking charter fixtures, understood to be on behalf of retailer client Costco.
With $21m of charter revenue for this three-month fixture, it is no surprise that shipowners are declining to extend charters with ocean carriers, despite the lines agreeing to accept big daily rate hikes and much longer periods.
Moreover, containership owners have numerous offers on the table to purchase their ships, should they wish to cash in on their assets.
One line suffering from the tonnage squeeze is Israeli carrier Zim, with its asset-light strategy of chartering all but two of its 109-vessel fleet. According to Alphaliner, Zim is being forced to juggle its tonnage and suspend a transatlantic loop to support its network.
The consultant says Zim has no tonnage available for its monthly North Europe to US east coast ZNE service, which it launched in November with the sailing of the 4,252 teu Seaspan Dalian.
"The vessel was replaced after its first round voyage by the 2,556 teu Emden, which Zim chartered for 30 days," said Alphaliner. This, however, only proved a stop gap solution as Zim was unable to extend the hire of the ship ahead of its purchase by MSC.
Zim advised its transatlantic shippers it would deploy its 4,255 teu Zim Atlantic, which it purchased second-hand for $60m in October, on the route, but according to Alphaliner, it has now been re-assigned to the new East Med-India ZMI service, which is operating with four of five required ships.
"Online schedules for the ZNE service only show a next sailing from Antwerp on 16 June, with a yet-to-be-named ship, which means that this monthly transatlantic service is likely to remain suspended for a period of five months," said Alphaliner.
The consultant notes that Zim will require even more ships for the ZMI, given that it understands that the loop is being extended to North Europe next month following the termination of Zim's cooperation with MSC on the North Europe to East Med trade.