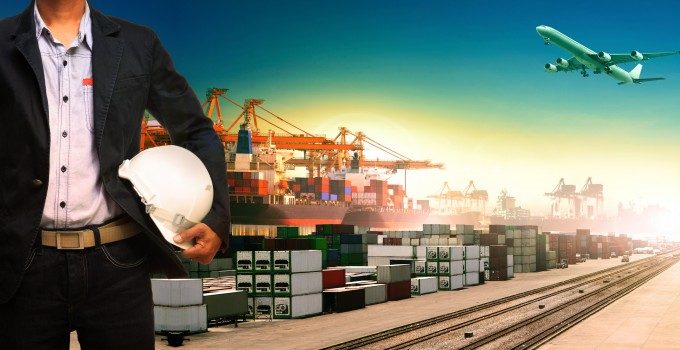 Research company, the Aberdeen Group, has published a paper revealing that thorough supply chain visibility is increasingly important.
Now normally, The Loadstar would post the whole paper so you can read it for yourselves, but unfortunately, we are unable to as it is rather cleverly protected from dissemination. So, working tirelessly on behalf of our readers, we have been through it and will summarize its contents here.
Because it's pretty interesting. If you understand what your customers need, it will certainly benefit you.
Aberdeen conducted a survey of 128 companies, and discovered that growing supply chain complexity was the top business pressure, with 44% of companies citing it. (Complexity, of course, also means cost.) It then ranked its respondents into three categories: best in class, industry average, and laggards, and went on to show what the difference in processes were.
And it became quite clear that the best companies had far better supply chain visibility, over suppliers, freight and logistics providers and internal processes.
The report states: "Over the past year, global companies have been subject to, and have been forced to rethink their emerging market sourcing savings, because of the rising complexity of logistics and bloated inventory requirements driven by long lead times that can often be unreliable."
It shows that higher complexity leads to higher risk of supply chain disruption, such as the volcanic ash cloud. And reveals, essentially, how being able to see supply chain movements can help minimise disruption.
"The mounting pressures of the increase in international freight costs and the fluctuating price of fuel, as well as lead time variability, have forced companies to focus more on using capability such as visibility, total landed cost management, multi-leg shipment optimisation, itinerary-based routing, dynamic hub routing and divert-in-transit strategies…"
"The top performing companies are most successful in integrating their people, process and technology. Those successful in this threefold integration are gaining a more end-to-end and close to real time visibility of the supply chain across the multi-tier supplier base."
And it shows that the more automation one has, the easier it is to keep on top of the information.
Aberdeen used Lenovo, a $21bn company and the second largest supplier of personal computers, as a case study. The company, whose supply chain was disrupted by the volcanic ash cloud, realised it needed a new platform for its supply chain management.
Ian Mallison, Lenovo's executive director, global logistics, said: "At that time, our shipment tracking and visibility processes were mainly manual and labour intensive, using spreadsheets, faxes and email. With our new cloud solution, we are now able to evaluate shipment milestones on a daily basis, which allows us to react quickly, on a 'management by exception' basis.
"Our new platform coordinates logistics operations from the point of shipment of finished goods, originating from multiple points of supply, through transport and freight selection with our carriers.
"The system receives event milestone updates from carriers, provides visibility to order status from factory to delivery, leveraging track and trace milestones and allowing for Web and EDI inputs from our trading partners and carriers.
"We no longer manually manage the flow of products and information or rely solely upon our 3PLs to tell us where are products are – there are now automated triggers and alerts, which enable us to quickly escalate issues and keep orders on track."
It allows Lenovo to assess the performance and SLAs of its carriers and shipments. It doesn't yet use the platform for Customs filings, global trade compliance or tracking detailed costs, but could do in the future. But it does leverage the shipment data to monitor spending and help with transport contract negotiations. It can also see optimized container utilisation, transit times, end-to-end lead times and trend analysis. Which basically means that logistics providers need to ensure a top-notch product.
A director at a medium-sized durable goods company added: "We believe that higher visibility is partly contributing to lower lead time variability, reduced inventory, shorter lead times, increased fill rates, and other supply chain operational improvements."
Points of note:
* The current, biggest 'blind spots' in supply chains tend to be on the inbound;
* A surge in the number of trading partners a company has make real connectivity harder to achieve – so companies should connect to their business partners and analyse the information.
The better-performing companies have:
*centralised supply chain management organisations;
*role-based visibility internally and externally;
*shared, centralised and better integrated information systems;
*more visibility into supply chain costs eg logistics
*automated key processes for international shipping operations. Rather than relying on historical data to manage tactical shipments, they are more capable of re-routing to avoid disruption or cut costs. International transport software is instrumental for this.
*frequent monitoring and measuring of performance.
"Disruptions can be avoided by understanding what disruptions occurred, how they were managed, and the overall impact on projected costs. Companies can do a better job of understanding their true shipment volumes by lane and mode, and negotiating routes and rates with carriers. Checking event status more frequently has an impact of reducing overall lead times because problems can be identified earlier," stated the report.
The leaders are:
*50% more likely than the industry average, and three times as likely as laggards to have real-time visibility into shipping schedules.
*28% more likely than average, or 2.8 times more likely than laggards to have online international transport data available for internal users across the company.
*48% more likely than the average, or 2.8 times more likely than laggards, to automatically track total landed costs.