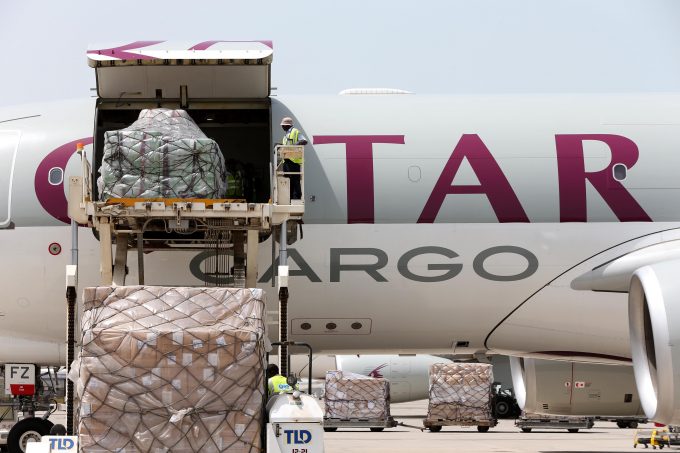 Qatar has seen airfreight demand return to pre-crisis levels following the introduction of new shipping routes from Asia and Oman, as the Gulf state continues to battle a Saudi-led blockade.
At the start of June, Saudi Arabia, the UAE, Bahrain, Egypt, Yemen, Libya, Mauritius and the Maldives severed diplomatic relations with Qatar and stopped flights and ocean voyages to its airports and seaports.
In the weeks following, Qatar Cargo saw 160% year-on-year increases in imports as the government requisitioned air freight capacity to airlift food in.
To keep up with a shift from  a usual daily 180 tonnes of perishable goods to 900 tonnes, the carrier brought in third-party aircraft including military C17s, B747Fs, A300Fs, A330Fs and Ilyushins.
Chief cargo officer at Qatar Airways Ulrich Ogiermann told The Loadstar the "illegal" blockade had provided some initial challenges but the carrier had reacted "swiftly" and proven its "resilience".
He added: "Managing such a precipitous increase in imports fully stress-tested Qatar Cargo's facilities. Thankfully, we had planned well ahead for commercial growth.
"These investments proved more than capable of accommodating the demand, serving grateful importers and restocking supermarket shelves with ample supplies of fresh produce overnight."
The carrier also increased frequencies to Hong Kong from 17 freighters a week to 21, upped capacity into the Indian sub-continent and increased charter capacity globally.
More than 100 flights were grounded in the immediate aftermath of the blockade, but fears of increased freight rates apparently failed to materialise despite increased flight times.
One forwarder told The Loadstar that from a UK perspective, there had really been "very little impact" on services and operations.
"Perhaps the biggest impact has been the loss of Qatar Cargo flights into Saudi and Dubai; destinations where Qatar used to be competitive," said the forwarder.
"At a global level, there has been some redirection of freighter flights – largely down to the Qatari government requiring them for foodstuffs – but prices haven't changed. Qatar has a lot of oil."
Mr Ogiermann said food inventory levels were now "fully restocked", adding: "While the majority of imports now come by ship, we continue to manage the national air cargo requirements using leased freighters, leaving our commercial operations at full capacity.
"We have also seen some benefits from the blockade: we have proven our resilience, retained business and customers and have expedited some of the plans we had in place."
Qatar has been actively investing in the agriculture and food sector, through Hassad Food, in line with a "food security" policy to increase the quality and quantity of crop production by 2030. And because of the blockade, the country brought forward plans to develop its own dairy industry, which have seen Qatar Cargo begin the transport of 4,000 Holstein cows.
We began these livestock shipments on more than 20 B777 charter freighters to Doha," said Mr Ogiermann. "This is the first time Qatar has experienced an airlift of this magnitude to support the establishment of a new industry."
While the carrier would not comment on how long it expected the blockade to last, news reports suggest both sides remained grid-locked. The Saudi-led group has told Qatar it must comply with 13 demands for the blockade to be lifted – reports that this had been reduced to a six-point list have since been refuted.
Among the demands is a reduction in diplomatic relations with Iran, accepting monitoring for 10 years and aligning with the group militarily, politically, socially and economically.