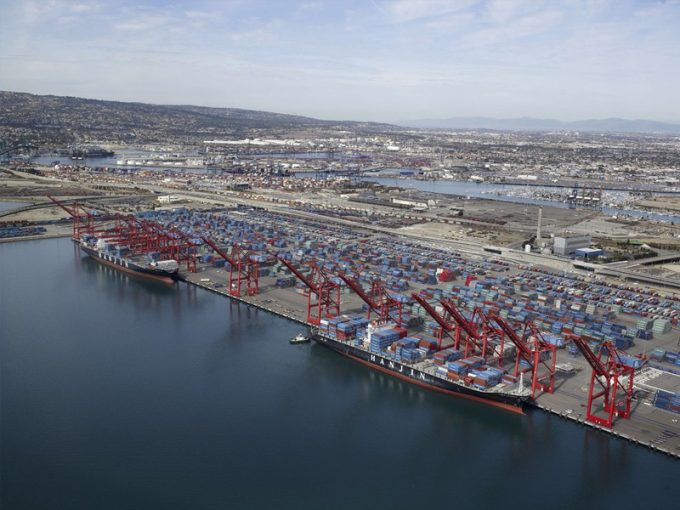 OOCL has announced the cancellation of four Ocean Alliance headhaul transpacific sailings next month.
This suggests forward bookings are resuming normal seasonal demand patterns after the rush to beat 1 January import duty hikes.
Four Ocean Alliance loops will blank sailings in weeks 48, 49, 50 and 51, which OOCL said was "in response to the expected low demand during the upcoming Christmas and new year period".
Until then, carriers are taking full advantage of the artificially high demand caused by shippers trying to avoid the punitive 25% tariffs on $250bn worth of imports that come into force on 1 January.
"There's a reason why China-US west coast prices have been at 18-month highs for 13 straight weeks," said Zvi Schreiber, chief executive of Freightos.
"It's not just that it's peak season, they have been largely spurred by advance shipments before each successive tranche of China trade tariffs takes effect. Right now, people are trying to beat the January 1 tariff increase,"
For example, the 2M alliance temporarily deployed two 17,816 teu sister ships to replace 13,000 teu tonnage on the trade for round-trip voyages on 8 and 15 November.
And, unsurprisingly given the robust demand, container spot rates on the trade remain high.
The Asia to US components of this week's Shanghai Containerized Freight Index (SCFI) were almost unchanged, recording spot rates for the US west coast at $2,575 per 40ft and for east coast ports a rate of $3,613 per 40ft.
These rates are a massive 82% and 88% higher, respectively, for the US west and east coasts compared with the same week of last year, when rates were in a rapid decline due to weakening demand.
Carriers intend to try to capitalise further, with GRIs planned for 15 November and 1 December. But, given the expected sharp demand slowdown next month, they are unlikely to succeed with the latter and could instead be faced with a sudden erosion in the spot market.
However, many of the carriers serving the transpacific trade are cautiously optimistic that the fallout from the 1 January tariff hike will be limited, with some compensation coming from higher demand from non-Chinese ports.
Speaking during Hapag-Lloyd's third-quarter earnings call yesterday, CEO Rolf Habben Jansen said he did not expect demand on the transpacific to "fall off a cliff" as a consequence of the US-China trade war spat.
Freightos's Mr Schreiber said: "If President Trump holds good on his threat to slap a tariff on the remaining $257bn-worth of imports should his G20 meetings with President Xi fail to break the deadlock, then expect transpacific prices to remain strong in January ahead of yet another tariff hike."
Elsewhere, the SCFI recorded virtually no change on spot rates from Asia to Europe, with North Europe rates at $753 per teu and $767 per teu for Mediterranean ports.
However, the reintroduction of the 2M's AE2/Swan loop this week, which will add around 6% of capacity to the trade, could put spot rates under pressure just as demand weakens around the Christmas holidays.
"The return of the AE2/Swan has shaken the confidence that current rates will be sustainable in the second half of November and December," said Alex Juhnevics, managing editor, freight markets, at S&P Global Platts.
He said that although spot rates on the route remained stable, there was "a potential for a slide in the next few weeks".
Meanwhile, there is good news for carriers concerned about a rise in their fuel costs due to the recent slide in oil prices. In the past month, Brent crude has fallen from over $80 per barrel to just under $70 today, resulting in the price of IFO 380 bunker fuel declining by around 8% to $443 per ton.