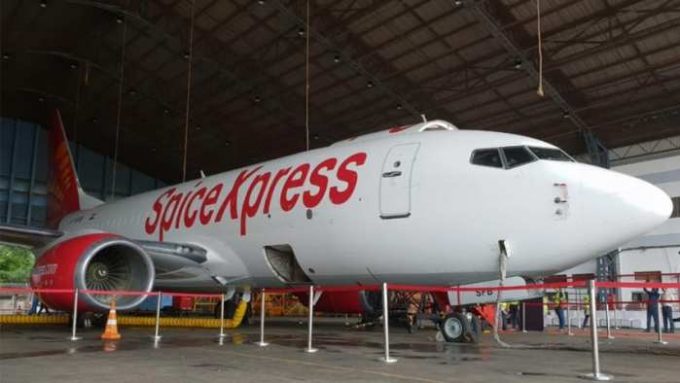 Indian low-cost and freighter airline SpiceJet has secured RA3 [regulated agent third country] and ACC3 status requirements, allowing it to carry cargo into the EU and UK.
The validation is expected to help the private carrier, caught up in heavy financial stress, to expand its cargo-handling reach, which had become a major revenue source for the industry during the pandemic.
"The certifications will allow SpiceJet to not only transport mail and cargo on its own airplanes under its air operator permit, but also handle cargo and mail of other airlines for transporting to or via the European Union and the United Kingdom," the airline said.
"In addition, these certifications confirm that SpiceJet meets the security requirements for screening air cargo and mail entering the EU and UK under their supply chain initiative."
The company said it had cleared stringent cargo security audits and on-site verification to check compliance with the latest standards in the EU and the UK.
SpiceJet's operations at the Indian airports of Mumbai, Delhi, Chennai, Hyderabad, Bengaluru, Thiruvananthapuram, Ahmedabad and Kochi have been ACC3-certified for both these global regions.
According to industry sources, SpiceJet is expected to launch EU/UK cargo operations at the end of the month or early August.
"They are looking at a Frankfurt service, to begin with," sources added.
SpiceJet operates a dedicated air cargo service under the brand SpiceXpress, currently operating four 737 freighters on intra-Asia routes. It carried 39,000 tons of cargo in Q3 (October-November) and saw income from freighter and logistics services hit Rs5.84bn (about $74m), surging 90% year on year.
Ajay Singh, chairman and MD of SpiceJet, noted: "These certifications are an attestation of our commitment to aviation safety and adherence to the highest and most stringent security standards in our operations. They will help SpiceJet gain business opportunities from international airlines, freight forwarders, cargo agents and international couriers, as it allows us to seamlessly carry cargo both to and via the EU and the UK."
But with a one-type-fleet of 737s, it is unclear what assets SpiceJet intends to use to carry cargo to Europe and the UK. Obtaining specific details about fleet deployments was apparently not possible at this time. A company official told The Loadstar: "We are in the process of crystallising the service strategies," and declined to comment further.
Forwarders have broadly welcomed the move. Joy John, director of air and sea freight at Mumbai-based Jet Freight Logistics (JFL), said: "This will add more capacity into the market, which is a welcome sign for all stakeholders. But soaring fuel prices remain a concern for airlines."
"Freight demand is expected to remain high and this should help gain a better balance between supply and demand," another forwarder said.
A ransomware attack in May dealt a severe blow to an already challenging operating scenario at SpiceJet, fuelled in large part by its failure to clear dues owed to a Swiss maintenance company that had led to Indian court interventions.  The dispute was recently settled, according to SpiceJet, but the system outage has already considerably delayed its Q4 performance announcement.
Compounding those concerns, the carrier is increasingly falling into the crosshairs of Indian aviation authorities for service shortcomings and safety issues.  It has suffered seven emergency landings over the past 17 days, including two incidents yesterday.
India's regulator, the Directorate General of Civil Aviation, is said to have issued a show-cause notice to SpiceJet over the frequent technical snags.
You can contact the writer at [email protected].