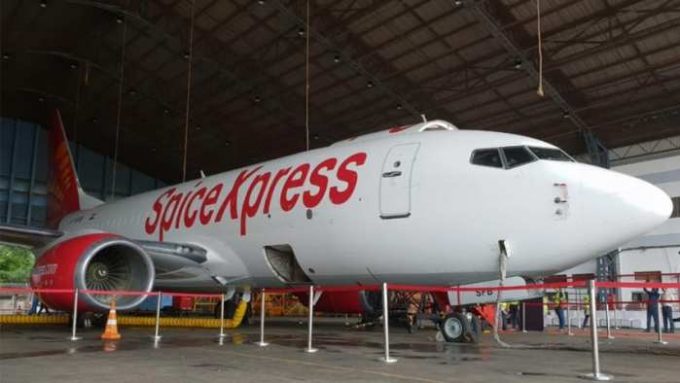 SpiceJet's foray into freight marks a rare occurrence – a low-cost carrier (LCC) significantly adapting its business model to operate a freighter.
Not only that, but the India-based firm is doing it in a market littered with the dreams of past freighter operators.
SpiceJet has now received its first converted 737 and is set to start services on September 18.
Called SpiceXpress, it is not limited to the domestic market – it is planning routes to Hong Kong and Kabul, as well as Amritsar, Delhi, Bengaluru and Guwahati, and will operate four freighters next year.
"The economy is growing very rapidly," chairman and managing director Ajay Singh told BloombergQuint in a video interview.
"It is surprising to see no freighters available at all – there are just five in India. We felt there was a requirement for dedicated air cargo services."
He cited time-sensitive shipments, high-value goods, pharmaceuticals and perishables as key commodities.
SpiceXpress has big plans. Mr Singh explained that the carrier would grow from 15,000 tonnes of capacity to 27,000 tonnes initially, followed next year by growth to between 40,000 and 50,000 tonnes per month. Over the next few years, the carrier expects capacity of some 100,000 tonnes.
"I think that's a good size to be," he said.
"We are an airline, and we can do low cost," said Mr Singh. "We have a record of providing a high-quality service. There is significant demand within India."
He added that the carrier would continue to evaluate route options.
Interestingly, Mr Singh spoke of the addition of cargo in typical low-cost carrier terms; despite the significant investment in freighters, he talked of cargo as an "ancillary revenue" – a term normally used in LCC circles for baggage fees, other additional funds raised from passengers and, where applicable, a smattering of freight or mail in the belly. The revenue from freighters, however, can hardly be called 'ancillary'.
In common with many LCCs, Spicejet is not an IATA member. While it is still able to participate in CASS, it will cost a higher entry fee to join.
Spicejet follows Brazil's Azul as an LCC moving into the freighter sphere. The carrier announced in April it had leased two 737-400Fs to be delivered in the second half. That announcement was swiftly followed by a similar one from Philippines carrier Cebu Pacific, which is planning to operate two ATR-72-500Fs freighters.
Low-cost carriers have traditionally been wary of carrying cargo. As analyst CAPA stated in a report: "Air cargo is often an afterthought for low-cost airlines. While cargo is important for most full service network airlines, it has typically not been viewed as a core component of the LCC model.
"Some LCCs refuse to carry cargo, worried it would increase turnaround times and costs, outweighing any revenue gains. Several LCCs outsource their cargo capacity to third-party specialists, generating revenues that typically account for less than 3% of total revenues."
But it added: "Cargo can be a much bigger revenue contributor for LCCs with little cost or risk if managed appropriately. The Philippine LCC group Cebu Pacific provides one of the best examples of an LCC cargo strategy that fully leverages the potential benefits.
"Cargo has consistently accounted for 6% to 7% of total revenues at Cebu Pacific – even before the airline group began operating widebody aircraft."
In the fourth quarter of last year, SpiceJet's ancillary revenue was 10% of its total, although there was no breakdown for cargo. One media outlet reported that SpiceJet made some $33m from freight operations in 2017, on total consolidated revenues of Rp79.3bn ($1bn) – suggesting a far higher proportion from cargo.
And again in a difference from cargo-carrying belly LCCs, SpiceJet is offering its customers a wide range of products, from door-to-door to hour-based deliveries. But despite Mr Singh's mention of perishables, there is no cool chain offering listed, with most products focused on security or delivery time – so far.
Which is more achievable, in the short term at least, for an LCC.