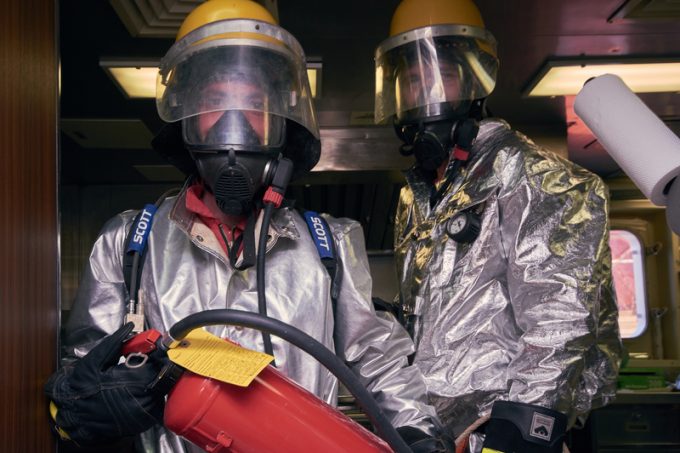 The International Union of Marine Insurance (IUMI) claims the SOLAS [safety of life at sea] regulations for fighting a fire onboard a modern ULCV are inadequate.
It calls for amendments to SOLAS Chapter 11-2 regulations regarding enhanced provisions for early fire detection and effective control of fires in containerised cargo stowed under and on deck, in a paper submitted on 10 February to the IMO's Maritime Safety Committee by IUMI and its co-sponsors, including the German Flag State and BIMCO.
"It is clear that the current SOLAS regulations are not adequate in considering the size of the modern ultra-large ships and the complexities of fighting a fire aboard these vessels," said IUMI.
It warned that the growth, and larger average size, of container vessels would "inevitably lead to a further danger to crew and the environment and increased costs of damage to cargo and vessels in the event of a fire".
IUMI noted that between 2000 and 2015, there were 56 reported container fires in vessels, resulting in damage to over 8,000 teu and a total loss to insurers of over $1trn.
More recent data covering hull damage from 2000 to 2019 has led to claims of some $189m.
IUMI has called on IMO member states to endorse its proposal at the Maritime Safety Committee meeting in May.
Elsewhere, classification society the American Bureau of Shipping (ABS), has published a guide, aimed at designers, builders, owners and operators, addressing safety issues in the wake of a number of high-profile fires on containerships, entitled Guide for Fire-fighting Systems for Cargo Areas of Container Carriers.
It said the development of the guide reflected "the fact that container vessels have grown ever larger in recent years and the volume – and nature – of the cargo they carry has expanded significantly".
The guide goes beyond the current SOLAS regulations and seeks to address early fire detection, more efficient fire suppression, better protection of crew and the safety considerations associated with cargo hold flooding as a means of fire-fighting.
Meanwhile, supply chain insurer TT Club is continuing its quest to educate shippers and other supply chain stakeholders on cargo integrity in an endeavour to prevent container fires from happening.
The first boxship fire of the year, on board the 10,062 teu Cosco Pacific on 4 January, originated in a container loaded with lithium batteries that were falsely declared as spare parts, evidencing how much work still needs to be done to mitigate risk in the industry.
Speaking to Hazardous Cargo Bulletin, TT Club risk management director Peregrine Storrs-Fox outlined some of the initiatives that the insurer had taken in collaboration with others to promote the good practice cargo integrity message of the IMO-agreed CTU (cargo transport units) Code.
"We're looking to promote the CTU Code and help people not just to be aware of it but to learn how to comply with the elements that are appropriate to the commodity or packing that they are undertaking in order to give a good outcome to the supply chain," said Mr Storrs-Fox.