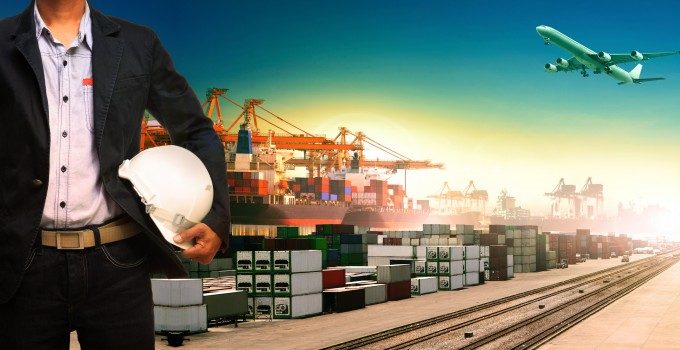 PRESS RELEASE
Preliminary business figures – Röhlig Logistics achieves strongest result in the company's history
Bremen, 15 February 2022 – Based on preliminary business figures, the owner-managed logistics company Röhlig Logistics recorded the most economically successful year in its history in 2021.
Philip W. Herwig, Managing Partner at Röhlig Logistics, explains: "We are emerging from this second pandemic year even stronger. We have increased our EBIT from 11.8 million euros to 61 million euros and thus achieved an EBIT growth of over 400 percent by reacting quickly and flexibly to the extraordinary market situation. All our core businesses, sea freight, air freight and contract logistics, contributed to the very good result."
Röhlig also resumed many of the projects that were suspended in the previous year due to the pandemic and continued to implement its Blue Star strategy programme with great vigour. One milestone from this programme is the spin-off of the two digital specialists logineer and cargonerds together with the partner q.beyond. The two start-ups offer their digital products and services to all globally operating air and sea freight forwarders.
Positive development in all core markets
In the reporting year 2021, the gross profit generated increased by a good 50 per cent from 140.4 million euros to 213 million euros. The positive development of the core markets USA, Germany, Australia, China and South Africa contributed particularly to this. Röhlig has further strengthened its global presence by opening new offices in Hyderabad and Vizag in India, an office in Berlin, Germany and a first branch in the United Arab Emirates, in Dubai.
Dr. Robert Gutsche, Chief Financial Officer at Röhlig Logistics, explains: "Dubai plays a leading role not only in regional logistics, but also as a hub connecting Asia, Africa and Europe. We will use Dubai as a catalyst for further expansion in the Middle East."
Strong growth in core business
In sea freight, 2021 was also characterised by the extreme shortage of freight space, container bottlenecks, rising freight rates and demand remaining high. Compared to 2020, Röhlig's gross profit in sea freight rose by 64 per cent, also driven by strong LCL business. Air freight increased by 39 per cent. Hylton Gray, Chief Executive Officer Sea Freight, Air Freight, Contract Logistics & Sales at Röhlig Logistics, explains: "In the second year of the pandemic, we were again able to offer our customers tailor-made logistics solutions. We organised over 150 charter flights and again achieved a record volume of air charter tonnage."
In contract logistics, Röhlig improved its gross profit by 38 per cent. Hylton Gray explains, "We took advantage of the pandemic-related increased demand from our customers for more space to improve our warehouse utilisation and grow with our customers. Together with Penske Logistics, we established Röhlig Penske Logistics as a contract logistics joint venture. With locations in Germany and the Netherlands, this is another milestone in the expansion of our contract logistics business."
Worldwide, Röhlig has 23 warehouses in 14 countries with 250,000 square metres of storage space. The expansion of warehouse space in Malaysia and China, which began last year, will continue in 2022.
Outlook
"In the current financial year 2022, we are also focusing on consistency and will carry on driving our growth. We expect the development from 2021 to continue in the first two quarters of 2022. With new products and digital services, we will work to further expand our business and our long-term partnerships," says Philip W. Herwig.
About Röhlig Logistics
Röhlig is an owner-operated logistics company which offers its customers services in the areas of sea freight, air freight, project logistics and contract logistics. The family-owned company was founded in 1852 in Bremen, Germany. Today, it employs 2,400 staff members in more than 30 countries.
More information on www.rohlig.com.
Contact for editorial queries
Daniela Dethmann                                                       
Head of Corporate Communications & Marketing                      
Röhlig Logistics GmbH & Co. KG                                 
Am Weser-Terminal 8                                                 
28217 Bremen                                                            
Tel: +49 (0) 421 3031 1226                                         
E-Mail: [email protected]