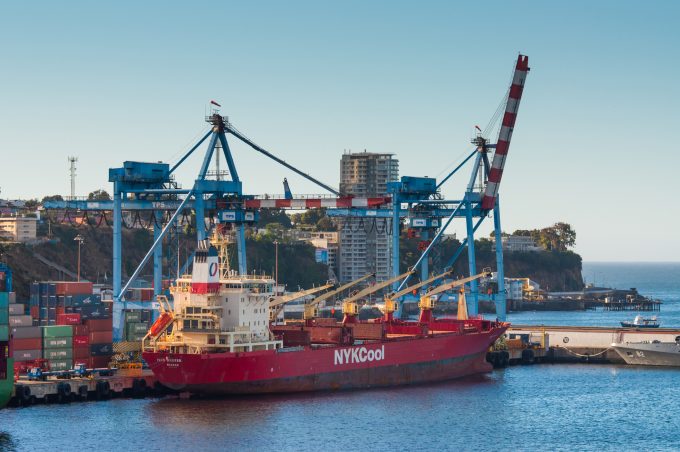 Reefer shipping outperformed dry cargo in the first half of 2016, providing one of the few growth markets in what promises to be one of the worst loss-making years for global container shipping.
Data collected between January and June by consultant Seabury shows reefer cargo racked up 163,000 extra teu on the same period last year. Chilled foods increased by 7% and frozen by 4%.
"Together with strong Latin American exports, global growth of containerised reefer cargo is, for a large part, driven by rapidly growing meat imports into China," said Ronald Veldman, maritime business analyst at Seabury.
Addressing delegates at Cool Logistics Asia in Hong Kong today, Mr Veldman said China and the US were the main drivers of growth on the import side, while globally the fastest growing commodities were frozen pork, with an additional 68,000 teu; bananas, 25,000 tea more; and citrus, up 15,000 teu.
"There were more winners than losers in refrigerated trades," said Mr Veldman. "Growing demand in North and South-east Asia is responsible for the majority of additional reefer trade, while few countries have seen their imports decline so far in 2016."
For example, China and Hong Kong combined experienced a 20% increase in frozen perishable imports, reaching a total of 79,000 teu. In Japan, where the government is placing a special focus on reefer shipping as a method of boosting national agricultural exports, frozen and perishable imports reached 10,000 tea – up 4%.
South-east Asia also experienced strong reefer import growth, with the Philippines up 17% to 10,000 teu, Thailand up 18% to 10,000 teu and Taiwan up 16% to 7,000 teu.
On intra-Asia tradelanes, Mr Veldman said fresh foods were ahead of other perishables, with "commodities such as onions, garlic and fruits growing substantially over the past five years and responsible for close to 70% of overall perishables trade growth".
Seabury data from 2010-2015 shows that, of the 283,000 reefer teu added within intra-Asia, onions and garlic accounted for 45,000 teu, meat 54,000 teu and, perhaps most significantly, fruit accounted for 77,000 teu.
"Increased share of fruit leads to more seasonal trade patterns, since fruits typically follow much more seasonal yield patterns than vegetables and, especially, frozen products like protein. This is creating new opportunities in the intra-Asia market," Mr Veldman said.
Meanwhile, India could experience a particularly strong reefer market over the next five years.
According to Mr Veldman, at 0.03 teu per 1,000 inhabitants, India imports far fewer perishables per capita than the global average, or other emerging markets. For example, China imports 0.6 teu per 1,000 people, the US 1 teu and the EU 1.2 teu.
"Indian imports could add significantly to global demand by 2020. For example, if India achieved half the ratio of perishable imports to the population size of China by 2020 [0.3 teu per 1,000], global perishables trade would increase by approximately 300,000 teu more than currently forecasted."