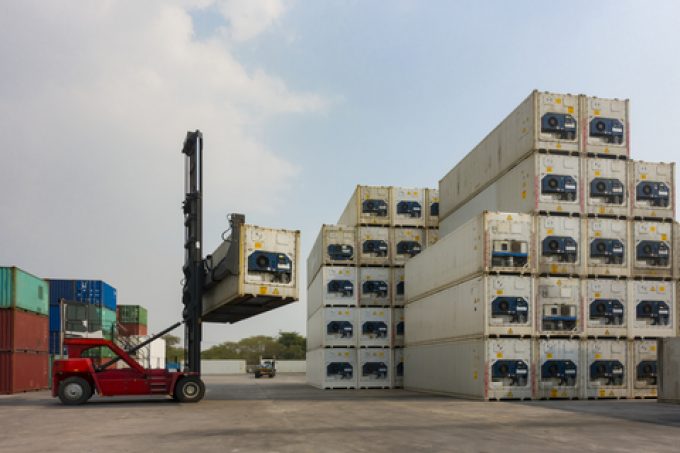 China's clogged-up container terminals and reefer plug shortage has created a logjam of perishable cargo.
Key maritime gateways like Shanghai, Ningbo and Xingang are congested due to a lack of local truck capacity, with many drivers unable to return to work amid the coronavirus outbreak.
As a result, reefer containers usually swiftly moved inland are stuck in terminal yards, creating a severe shortage of space and plugs for new refrigerated imports.
According to Vincent Tan, C.H. Robinson's Asia director of ocean services, the crisis is having a significant impact on the movement of reefers in central and north China.
"The 14-day quarantine period on truck drivers who truck out of cities is severely limiting the number of vehicles available to move containers," he told The Loadstar.
"Shipping lines have now been compelled to divert, and hold, refrigerated containers at other intermediate ports, like Korea or Taiwan, until the situation in China improves."
Furthermore, he warned, perishable cargo such as fresh fruit could be abandoned at Chinese terminals because many shipments only have a 3-4 week holding period before the sell-by date. In terms of equipment, Mr Tan reckoned it would take 4-6 weeks before any impact on the global supply of reefers would start to show.
"The actual impact on reefer equipment supply is still unclear, as exporters are also slowing down their shipments to China," he explained.
However, Peter Friedmann, executive director of the Agriculture Transportation Coalition (AgTC), said the reefer backlog had "crossed the Pacific" and was impacting US perishable exporters.
"There is dramatically less cargo and containers flowing from China to the US," he noted. This was due to carriers blanking sailings, resulting in an "emerging threat" of a backhaul capacity shortage.
"Our members are finding cargo getting 'stuck' at inland origin points, at rail ramps, at truck yards, at refrigerated warehouses and at the marine terminals here at the US ports," said Mr Friedmann. "Thus we are urging carriers to refrain from penalising our exporters with demurrage and detention charges for such delays."
However, carriers have warned shippers with cargo already en-route to China to expect surcharges of $1,000, in some cases. n Australia, for example, OOCL notified customers yesterday to expect diversions and added costs for reefer cargo en-route to China.
"Customers are encouraged to arrange change of destination to other ports, in order to avoid any last-minute re-routing with extra cost incurred," the carrier said.
The reefer backlog is impacting shippers in India, too.
"Almost all fish and allied product exporters from India and other Far East origins have started experiencing repercussions," said Jiss Mathew, director, Global logistics Solutions India.
"These perishable commodities do not have an alternate market apart from China, and the drop in prices has already begun to cause a slowdown in these industries."