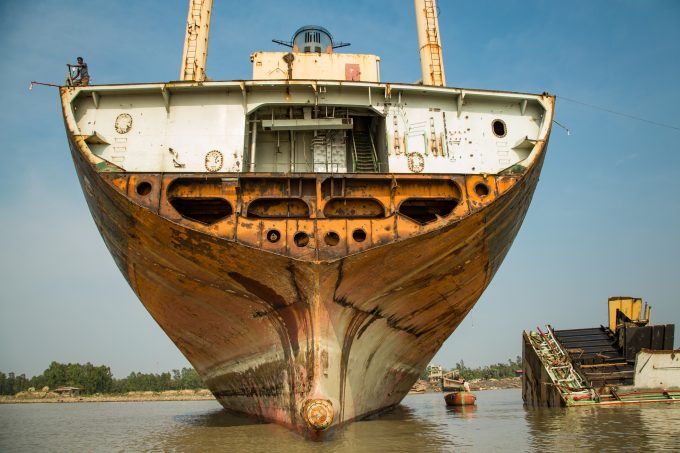 The 4,546 teu 2006-built Viktoria Wulff (ex MSC Firenze) has become the youngest containership to be sold for scrap as panamax owners cut their losses and abandon employment hopes in a hopelessly depressed market.
Previously the record for the youngest boxship sold for recycling stood at 13 years old.
The 10-year-old Viktoria Wulff, built at Gdynia, had been chartered by MSC and deployed on the carrier's Asia-Australasia services.
Brokers report that its German owners obtained $303 per LDT from breakers for the vessel "as is Shanghai" – ie, from the port where the ship is sold.
According to Alphaliner data, on 5 September there were 85 'classic' Panamax ships of 4,000-5,100 teu idled, most in 'hot lay-up' seeking employment on the spot market. But the laid-up fleet is likely to be swelled by around 25 more Panamax vessels operated by bankrupt Hanjin Shipping, once they have been discharged and returned to owners or repossessed by lenders.
Charter rates for Panamax ships have weakened further in the past month and are now at about $4,500 a day, compared with almost $15,000 in January 2015 – that is if employment can be found at all.
The opening of the expanded Panama Canal in June and the upsizing by carriers of ships using the waterway was the final nail in the coffin for the former workhorses of the transpacific trade lanes, and the influx of ex-Hanjin Panamax ships will surely weaken the sector further.
A South Korean bankruptcy court yesterday ordered Hanjin to return ships it charters back to the owners, and to sell as many of its own ships as it can.
The move has been interpreted as a sign that Hanjin will either disappear altogether or become a much smaller company.
Market conditions have strengthened operators' position. One container broker told The Loadstar this week that charterers were demanding "positioning" and "very flexible options".
He said: "The owners have no alternative; they don't like it, but if they want a contribution to their operating costs they have to bend over backwards for the charterer."
The dire situation for non-operating owners of panamax containerships has resulted in Singapore-based Rickmers Maritime Trust facing liquidation as it is unable to service its ship mortgages. Rickmers owns a fleet of 16 3,450-5,000 teu vessels, only five of which are currently fixed on time charters in excess of 12 months.
Meanwhile, according to data from London shipbroker Braemar ACM, the total slot capacity of containerships demolished or sold for scrap so far this year is fast approaching 500,000 teu.
To date, the number of ships recorded as scrapped has reached 126, for 429,500 teu. In the whole of 2015, 60 vessels, for 116,500 teu, were sold for recycling.