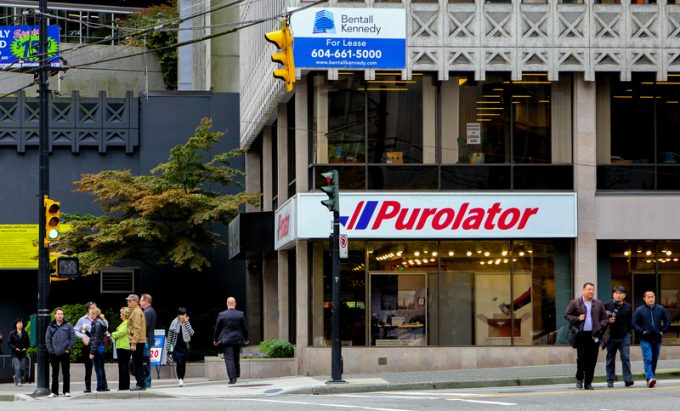 The growth of e-commerce business has led to a convergence of B2B and B2C traffic, with parcel logistics providers increasingly embracing both to serve clients' omnichannel supply chains.
"Now almost all shippers have both and we are seeing more companies transition to online platforms and omni-channel distribution," said John Ferguson, president and CEO of Purolator Courier, the largest express parcel operator in Canada.
Telecoms firms used to move their equipment to stores, now they also deliver straight to consumers, he noted.
"B2B and B2C are converging," he said, adding that this is leading to a new paradigm, labelled 'X2X'. Retail companies are leading this convergence, but other sectors are following, he said.
In fact, a recent Transport Intelligence report, Global e-commerce logistics 2017, found that 49% of B2B e-commerce buyers prefer to make purchases on B2C sites, noting that this led B2B operators away from the use of legacy systems such as EDI.
For Purolator Courier, this means more consumer deliveries as well as more on weekends. Volumes are also higher on Mondays and Tuesdays, as many consumers order items during the weekend, Mr Ferguson noted.
Consumer expectations benefit express operators as they do not want to wait several days for their order, he said.
However, other ramifications are less positive for providers, said Horst Manner-Romberg, principal of parcel logistics research at consulting firm M-R-U.
"B2C affects your sort processes and also your route structures."
Purolator Courier is in the process of developing new solutions in handheld technology, which will help with processes like route optimisation and sorting on trucks, Mr Ferguson said.
The surging volume of consumer parcels is translating into more density for Canadian operator.
"It's mostly single packages, but we get more stops per shift, which means more density," Mr Ferguson said.
However, Mr Manner-Romberg cautioned that a lot hinged on factors like population density.
The mix of products also plays a role, he added. Royal Mail subsidiary GLS retreated from the car tyre market, for example, after finding that the returns were undermined by the room a tyre takes up on a truck, thereby reducing space for other shipments.
A standard UPS truck carries 150-180 parcels and on average makes about 50 fewer stops for B2B traffic than for B2C shipments, Mr Manner-Romberg pointed out.
And consumer deliveries are more expensive – traffic operators in Germany need €2.60-€2.70 per parcel to cover the cost of B2C traffic; for B2B traffic that figure is €2.30.
GeoPost subsidiary Dynamic Parcel Distribution (DPD) embarked on a drive to raise its brand in the B2C sector in 2014 with the aim of doubling the share of that traffic in its mix within two years. In the process, its operating result dipped 78%, sending the firm's balance sheet into the red, said Mr Manner-Romberg.
Operations were also affected. DPD introduced an application that notified recipients of the anticipated delivery window. Over time, the accuracy deteriorated, he said.
He added that GLS appeared to have avoided some of the B2C pitfalls by limiting its exposure. For the most part it contrived this through prohibitive pricing and a clear focus on which products to carry and which to avoid.
Overall it is difficult for parcel firms to minimise their exposure to B2C, let alone avoid it, as their B2B clientele ask for comprehensive solutions that cover both elements.
"It's usually one deal for all. It's very rare that customers ask for separate deals for their B2B and B2C traffic," confirmed Mr Ferguson.
By the same token, pricing is typically across the categories.
"If you approach UPS, they will ask you about the balance of your B2C and B2B traffic, and they will adjust the overall price accordingly," Mr Manner-Romberg said. "Only if you have very small volumes in one segment, you may get charged two different rates. With higher volume, it's too much hassle to do that."