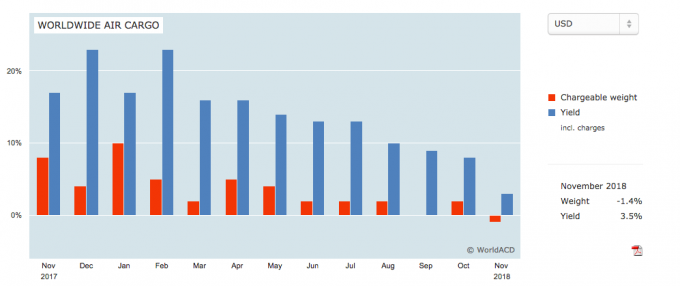 The 2018 air cargo peak season was weaker than in previous years – volumes even falling between October and November, usually the busiest month.
The decline, according to WorldACD, meant November's volumes were down 1.4% year on year. But, perhaps more significantly, they fell 2% from October.
The analyst noted, however, that the yield jump from October to November was larger than other month-on-month increases through the year, with airline revenues, measured in US dollars, up 2% on the year and 1.8% month on month.
New consultancy Hedge & Associates supported this viewpoint.
Alan Hedge, principal, noted: "Tight capacity on some lanes has been welcome, but global air cargo capacity growth has been outpacing demand growth for months now, so when the numbers come in, I expect we're not going to see much of an increase over the 2017 peak."
But he added that while rates were up, it did not all go to airlines' bottom lines.
"High peak transpac freight rates in November 2018 of over $5/kg were up 11% over 2017, but Brent crude was up 26% year on year, so much of the increase in rates did not make it to carriers' bottom lines. However, in early November, fuel prices began to fall, and for December the US Jet A benchmark was 12% lower than in November."
WorldACD reported that Hong Kong-US saw a November yield of $4.66.
But it said: "Although November showed a small increase in [China and Hong Kong to the US] over October (+1%), the year-on-year figures showed a drop of almost 5%. Combine this with a considerable drop in the opposite direction, US to China (-6% MoM and -8% YoY) , and we find that the overall market between these two countries fell by almost 6% YoY, and by 1% MoM.
"November was the first month since the trade war started that the year-on-year volume change for both directions was negative. It goes for both China and the US that their performance to the rest of the world is much better than their performance to the territory of their trade war adversary."
Elsewhere, noted WorldACD, Asia-Pacific to Europe saw gains of 7.2% month on month, and exports from Africa (up 4.9%) and Asia Pacific, up 0.5%, also grew. But the Middle East & South Asia, along with North America, saw month-on-month decreases to all regions.
Meanwhile, 2019 looks like a "mixed bag", said Mr Hedge.
"The good news is that trade tensions between the US and China seem to be relaxing slightly (or at least not worsening), with China's unilateral temporary move to reduce import tariffs on autos and the US delay in implementing a new round of tariffs on Chinese exports following President Trump's and Xi's meeting at the G20 summit in Buenos Aires.
"It also appears that 2018's strengthening dollar has partially offset the effect of US tariffs."
However, he warned of the likelihood of continued "erratic" trade actions from the US, the slowdown of China's GDP growth, the fading of the tax stimulus from the US economy and the impact of the government shutdown, which could shave half a percentage point off US GDP growth in the first quarter, and volatile stock markets. In Europe, a messy Brexit is expected to damage the economy.
Last month also saw a majority of US CFOs predicting a recession this year or next, with economist Peter Schiff noting it would be worse than the so-called Great Depression of the 1930s.
Mr Hedge added that the fall in the PMI "does not bode well for air cargo growth in 2019.
"I am hopeful we won't see an overall decline for the calendar year, but I think we're definitely going to see some year-on-year declines in some months."
WorldACD concluded: "The mixed picture we have seen in 2018 may well carry over into the new year, which seems to announce itself with much more uncertainty than a year ago, when the air cargo world looked quite stable."